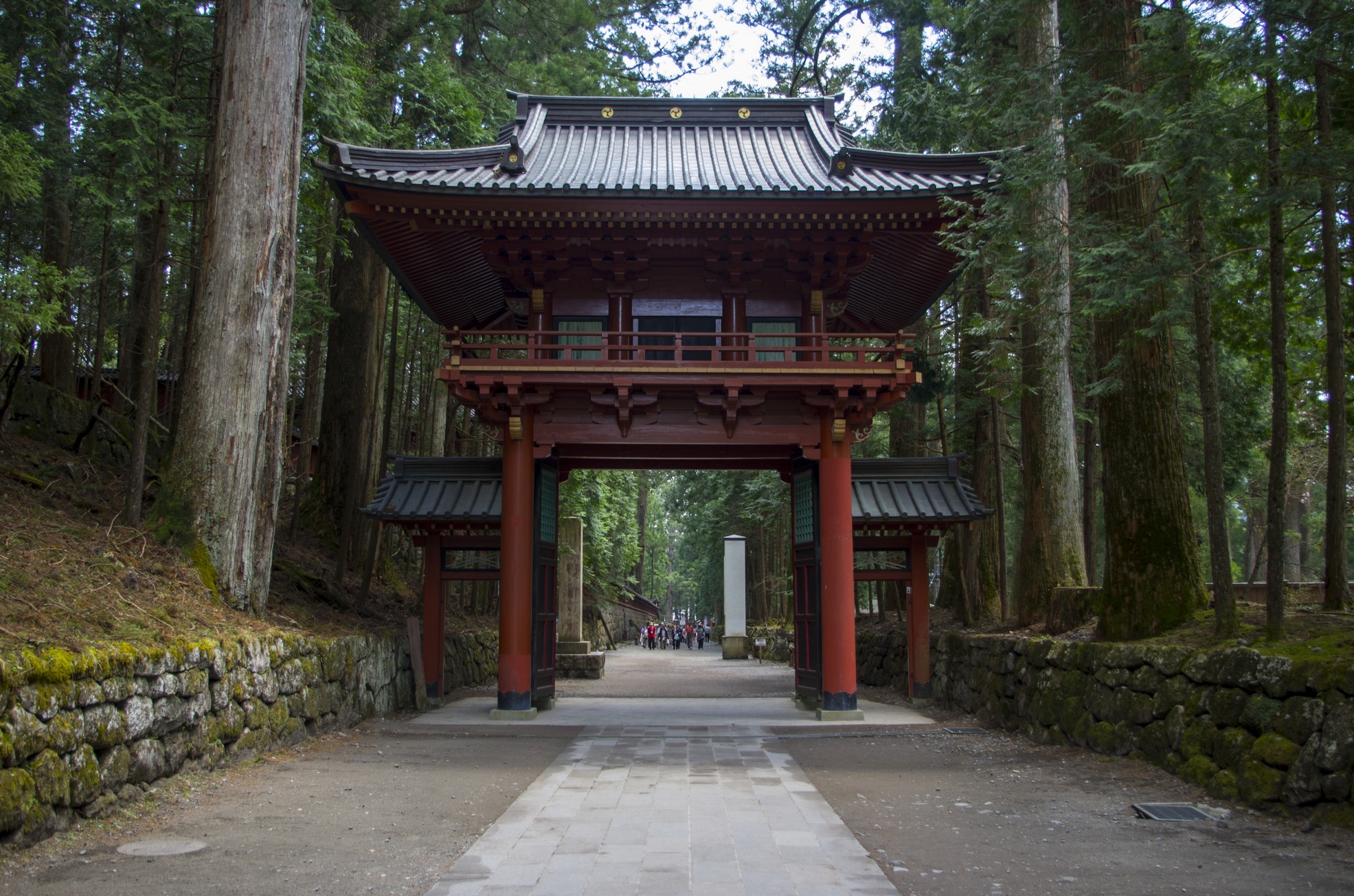 EN: Today was my first time I could use the Japan Rail Pass (google it – it's the best thing out there for every tourist who wants to visit Japan and wishes to use country's train services, including Shinkansen), my first planned destination was Nikko. It is definitely one of the must-see places for every visitor of Japan, its famous temples belong to the UNESCO world heritage and they are really worth of visit. Since it's attractive tourist spot, even though I arrived quite early in the morning, they were already everywhere. The entry to the temples is not entirely cheap, one of the fees was 1400 yen, which is rather lot. So if you decide to enter and explore all of the temples, prepare to pay 40 or 50 eur (50-65 USD).
SK: Síce trochu s oneskorením, ale predsa. V posledných dňoch neviem, kde mi hlava stojí, denno-denne nejaký výlet, keďže som si aktivoval Japan Rail Pass a chcem ho využiť čo najviac. Odštartoval som to v mestečku Nikko, ktorého chrámový areál patrí do svetového dedičstva UNESCO a je takpovediac "must-see" pre každého návštevníka Japonska. V mestečku, ktoré je prakticky vysokohorským turistickým centrom, sa nachádza mnoho chrámov, kaplniek a boh vie čoho ešte, je to značne atraktívna oblasť. Dokazoval to aj počet turistov, hoci ja osobne som prišiel relatívne skoro ráno a vtedy ešte taký nával našťastie nebol. Dolná časť zaberie každému turistovi dosť času a zároveň vysaje jeho peňaženku, pretože za vstupy do chrámov si lokálni účtujú aj 1400 yenov. Ak navštívite takéto štyri alebo všetky, ktoré sa v lokalite nachádzajú, máte z toho 40 alebo 50 eur iba za vstupné.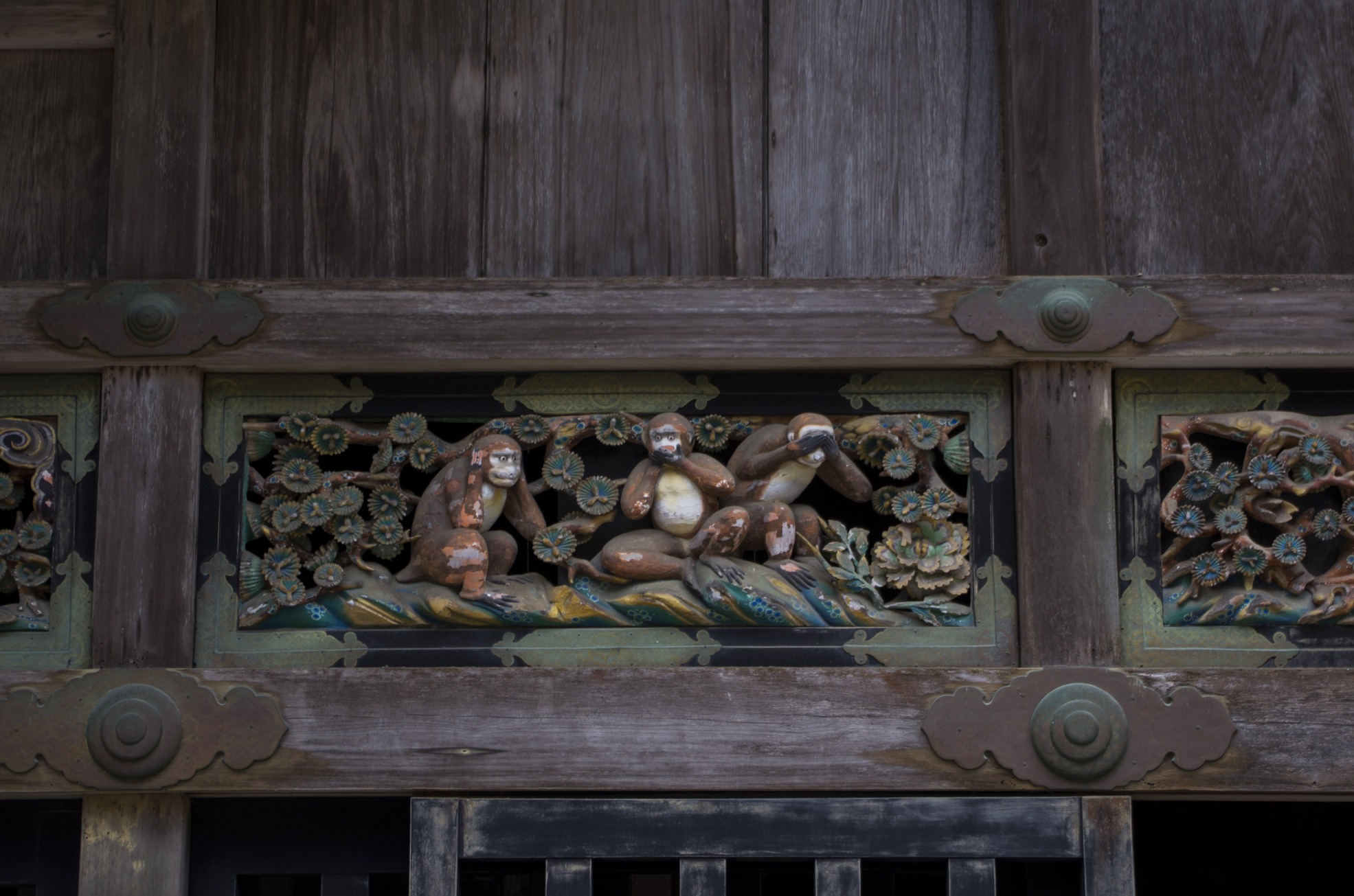 EN: The three wise monkeys, Mizaru, Kikazaru and Iwazaru have their origins in Nikko, the little shrine which depicts the three famous animals is permanently occupied by tourists, so it is virtually impossible to take proper picture. All the temples got really busy around midday, which is quite expected, considering the fame of local attractions. If you have some spare time, you can take the local bus towards the lake Chuzenji, where you can find one of the most beautiful waterfall in Japan, Kegon falls. Unfortunately something went wrong with my SD card and I lost all the pictures from that place, which is a shame, but I took some pics with my phone and I also recorded the video of the waterfall, which you can find in the link above at the end of Slovak text.
One more thing about the lake and its surroundings – there are no warning about local monkeys, which are rather annoying and even a bit dangerous. I had a break with several other tourists on the beach of the lake, when bunch of monkeys appeared and all of them went after our lunch. One of them bit me, there were other people who were bitten as well. Since the monkeys didn't succeed with us, they went to the other side of the road and started to steal stuff from one of the local shops (they keep some goods outside of their doors) and it really seemed that noone actually cared. I believe there should be some warnings over there, where the visitors are likely to appear and have a break…
SK: Áno, v Nikko sa nachádzajú aj tieto tri slávne opice, zvané "three wise monkeys", Mizaru, Kikazaru a Iwazaru. Malá kaplnka, ktorá ich znázorňuje, je neustále obliehaná turistami, ktorí sa vycapia až priamo na múr, takže spraviť poriadnu fotku je prakticky nemožné. To zároveň opisuje náladu v chrámoch, ráno bolo všetko OK, ale na poludnie a hlavne popoludní sa tam už nedalo pohybovať bez toho, aby som sa musel odstupovať, uhýnať a podobne. Nuž, slávna turistická atrakcia.
Nikko ale stálo za to, všetky tie budovy a ich areály nie sú v UNESCO iba tak náhodou. Ak má turista trochu času, môže si počkať na autobus, zaplatiť zaň 1200 yenov a vyviezť sa k jazeru Chuzenji, v pri ktorom sa nachádza aj jeden z najkrajších vodopádov v Japonsku, Kegon falls. Na moje nešťastie sa niečo stalo s mojou SD kartou a prišiel som o úplne všetky fotky z tejto časti Nikko, okrem jedinej, teda vrchu Mt. Nantai. Ale našťastie som si vodopád natočil na mobil a spravil aj niekoľko fotiek, video nájdete tu.
Ešte jedna poznámka k spomínanému jazeru – na jeho brehoch sú posedy pre turistov – pozor na vec – vyskytujú sa tam opice, ktoré sú neskutočne drzé a otravné, v najvyššom leveli aj agresívne. Turisti si sadnú a vyberú si jedlo, žiadne oznámenie naokolo a opice taktiež nevidieť, v momente, kedy je jedlo v rukách, je nával opíc, ktoré vám to dokážu vytrhnúť z ruky a ak im niečo nedáte, začnú vás škriabať, trhať vám šaty a hrýzť. Mňa taktiež jedna uhryzla, našťastie nič vážne, no turistické osadenstvo bolo značne zdesené. Opičky slušného vzrastu sa potom vybrali do blízkeho obchodu a začali rabovať jeho vonkajšie regále (Japonci majú v obchodíkoch bežne vyložené veci vonku), pokradli zemiakové lupienky a kadejaké keksy, ktoré začali žrať rovno v strede cesty. Každý ich zjavne ignoroval, nikomu to podľa všetkého nevadilo, teda okrem turistov, ktorí sa od rybníka rýchlo vytratili. Toto mohli dať do nejakej turistickej príručky, alebo aspoň na web, pretože je to dosť dôležitá vec, ktorá mnohých nepríjemne prekvapí. Zvyšok fotiek je tu.