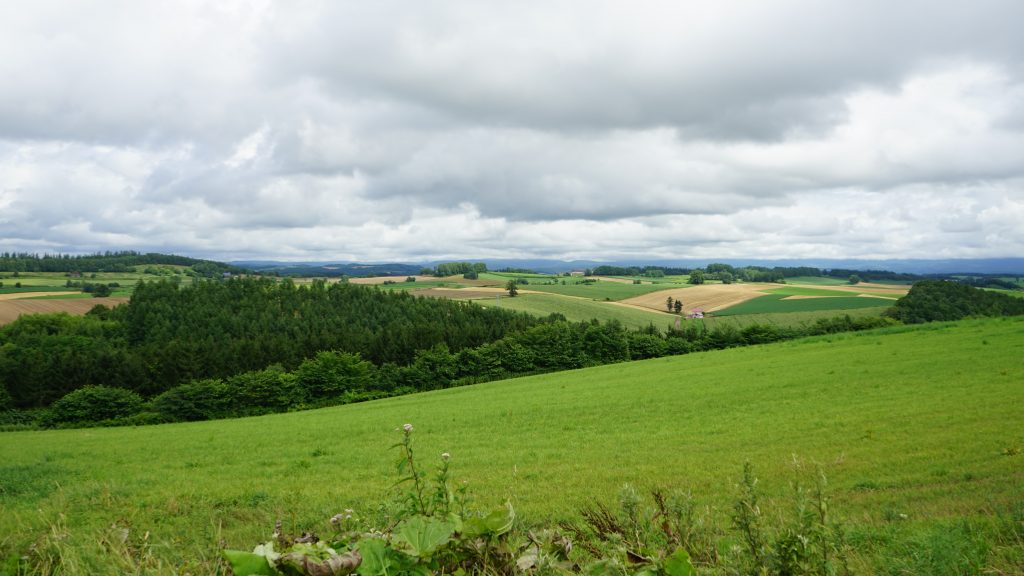 EN: Pretty much anyone who follows this blog knows well that I like biking. I did it on Rishiri and I was planning to do so even in the scenic fields around small city Biei, which is close to Asahikawa (approx. 30 minutes long train ride). I did some research and I knew I wanted to bike around, I was just looking for a suitable way to get around, because honestly – I did not know the place and even though I have no problem with navigating around with GPS (otherwise I would be lost many times in Tokyo), I wanted to see the best spots possible in just 2 days.
Therefore I found a bicycle rental company, which also offers guided tours and that is exactly what I needed – to enjoy biking in the area with a guide, who knows his stuff and can lead me to scenic places. I have to recommend this company, the booth of which you can find just next to Biei train station (mind you – you have to cross the pedestrian bridge, which is rather large for some reason). Firstly – they offer good quality Yamaha bikes with electric assistance motor. Secondly, the guide (Tomita Akira) knows his stuff AND speaks English, in case you do not speak Japanese (which in case of foreign tourists tends to happen, *cough*).
My plan for Saturday was a Blue Pond guided tour (I will get to that one in my next article) starting at 8:30. Unfortunately the typhoon had still some negative influence on the weather, so that one was cancelled, but I was offered afternoon half-day tour, therefore I agreed. I was not disappointed. It was a great time, biking around beautiful scenic fields of central Hokkaido, with farms and views. Photos are self-explanatory, no need to comment on those.
SK: Prakticky každý, kto sleduje tento blog, prípadne kto ma pozná vie, že cyklistike sa venujem aj napriek mojej nadváhe. Na bicykli som strávil značný čas aj na ostrove Rishiri, podobný plán som mal aj v strede ostrova Hokkaido. Pred dovolenkou som si spravil malý prieskum a zistil som, že najkrajšie scénické cyklotúry sú medzi mestečkami Biei a Furano, pričom do Biei sa dá dostať za 30 minút na lokálnom vlaku. Ja osobne nemám žiaden problém s hľadaním rôznych trás a s navigáciou s pomocou GPS (ináč by som sa v Tokiu už dávno stratil), no chcel som vidieť čo najviac a hlavne tie miesta, ktoré možno nie sú turisticky známe. Preto som sa sústredil na hľadanie cyklotúr so sprievodcom.
Napokon som našiel tú správnu službu, po ktorej som túžil – ak má niekto záujem, všetky informácie nájdete na tomto odkaze. Je to búdka s prenájmom bicyklov hneď oproti železničnej stanici Biei (musíte ale prejsť cez mostík pre chodcov na druhú stranu stanice), v ktorej človek nájde kvalitné bicykle Yamaha s elektrickými motormi asistujúcimi pri náročnejšej jazde, sprievodcu Tomita Akira, ktorý vie plynulo po anglicky, čo je vhodné pre turistov bez znalosti japončiny. Môžem napísať iba to, že týpek pozná svoju oblasť veľmi dobre a dostal som sa na miesta, ktoré by bežný turista ignoroval.
Pôvodne som mal na sobotu objednanú celodennú túru k Blue Pond (modré jazero), ktorá mala štartovať o 8:30 z Biei, no počasie žiaľ chcelo inak. Napokon mi bolo navrhnutá túra na pol dňa tesne popoludní, pretože sa malo vyčasiť. Stalo sa a ja som vôbec neľutoval, užil som si to, fotky hovoria za všetko a Blue Pond cyklotúru opíšem v ďalšom článku, keďže som sa jej zúčastnil v nedeľu.