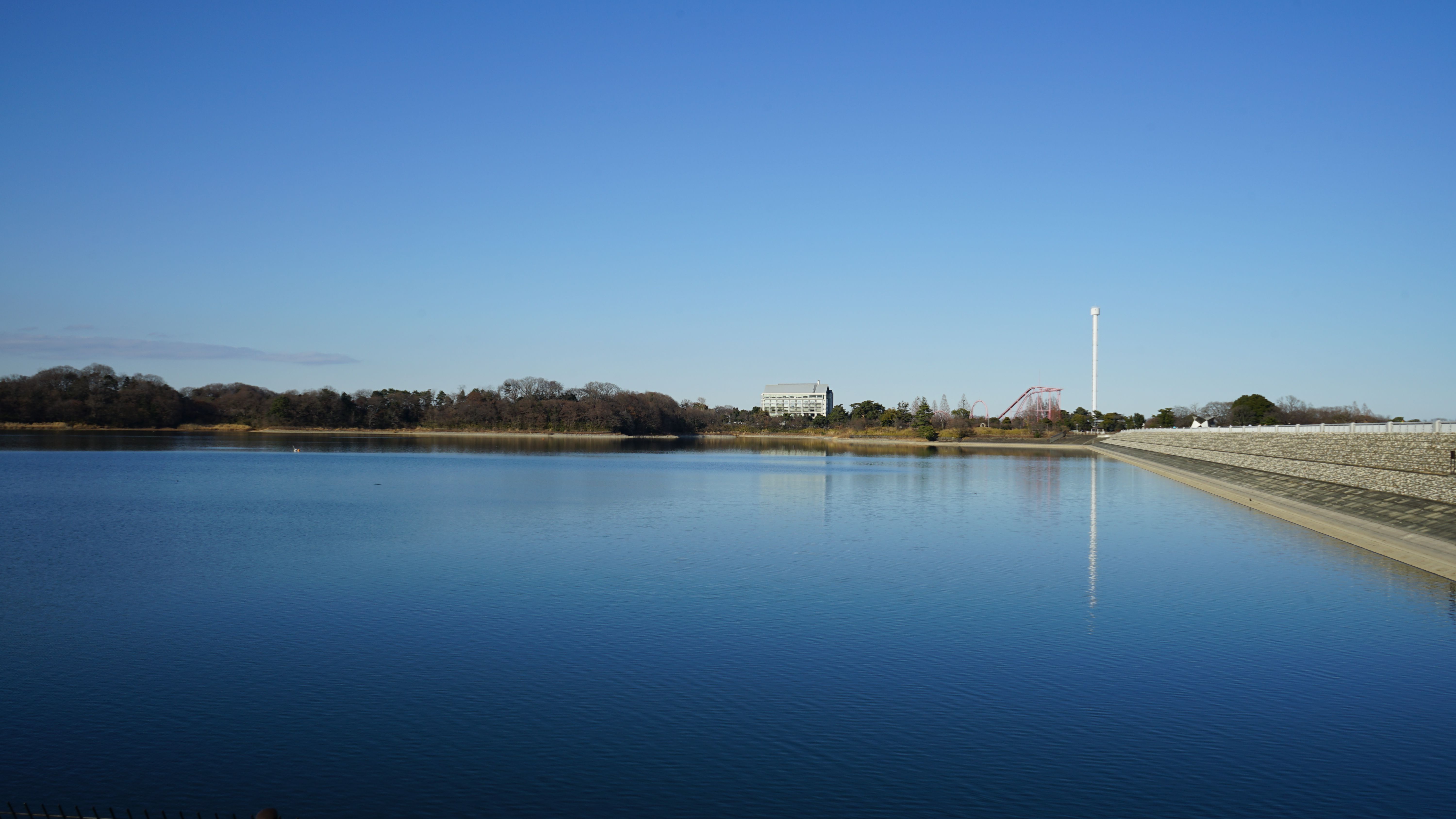 EN: Lake Tama is an artificial lake located in the western part of Tokyo, Higashiyamato area to be precise. It is a water reservoir which supplies water for the city. Therefore no fishing or swimming is allowed, instead of that, the location is great for various sports, especially cycling and jogging. There is also a small amusement park called Seibuen Yuuenchi, so it is not a surprise that the place was rather busy on Saturday sunny afternoon.
The best thing for cyclists is the designated cycling road, which starts close to Koganei park, well, exactly here to be precise and it leads straight up to the lake. So the cyclists do not have to worry about car traffic, but there are quite a lot of pedestrians who just do not like to follow the rules and walk even in the opposite direction. So of course you cannot just roll 35 km/h, because there are people in the way, but I believe during normal working day the route is not that busy. Plus, this is still better than riding on the road in the middle of traffic and stopping at all the traffic lights.
The route from Nakano to the lake was roughly 45 km long, although the cycling road goes on all around the lake, plus I am not sure if it does not circle even Lake Sayama, which lays just next to Tama. I believe it it a place worth of visiting, but unfortunately today I decided to ride to Tama a bit late in the afternoon, so I had to turn around early. Next time it will require a day trip, so I can visit both lakes and take some more pictures.
SK: Jazero Tama je umelo vytvorenou nádržou v západnej časti Tokia, konkrétne v Higashiyamato. Ide vlastne o zásobáreň pitnej vody pre celé mesto, preto sú kúpanie alebo rybárčenie zakázané. Na druhej strane je toto miesto doslova dokonalé pre rôzne športové aktivity a to sa týka hlavne cyklistiku a behu, okrem toho sa vedľa jazera nachádza aj zábavný park Seibuen Yuuenchi. Preto nebolo prekvapením, že vzhľadom na slnečné sobotňajšie popoludnie bola táto lokalita plná ľudí.
Najlepšou časťou pre cyklistov je ale vyhradený cyklistický chodník, ktorý sa začína blízko parku Koganei, presnejšie tu a vedie priamo k jazeru. Takže cyklisti sa v tomto prípade nemusia starať o premávku a semafory, na druhej strane im ale do cesty často vbehnú nespratní chodci, ktorí sa v niektorých prípadoch ani nesnažia dodržiavať pravidlá a razia si cestu hoci aj v protismere, ako keby sa ani nechumelilo. Faktom ale je, že išlo o sobotňajšie popoludnie, takže sa dá očakávať, že v bežné dni cestička nebude tak rušná ako dnes. Okrem toho, je to stále lepšie, ako sa neustále obhliadať za seba kvôli autám a každú chvíľu zastavovať na červenú.
Celý výlet z Nakana mal dĺžku asi 45 kilometrov a hoci cyklistická cesta vedie aj okolo samotného jazera (a nie som si istý, či neopisuje aj kontúry vedľa ležiaceho druhého jazera Sayama), ja osobne som nemal dostatok času, aby som sa porozhliadal. Z domu som vyrazil neskoršie popoludní, išlo o náhle rozhodnutie, no som si istý, že toto miesto budem navštevovať častejšie už len kvôli jednej z mála dlhších cyklotrás v Tokiu a v mojom okolí.