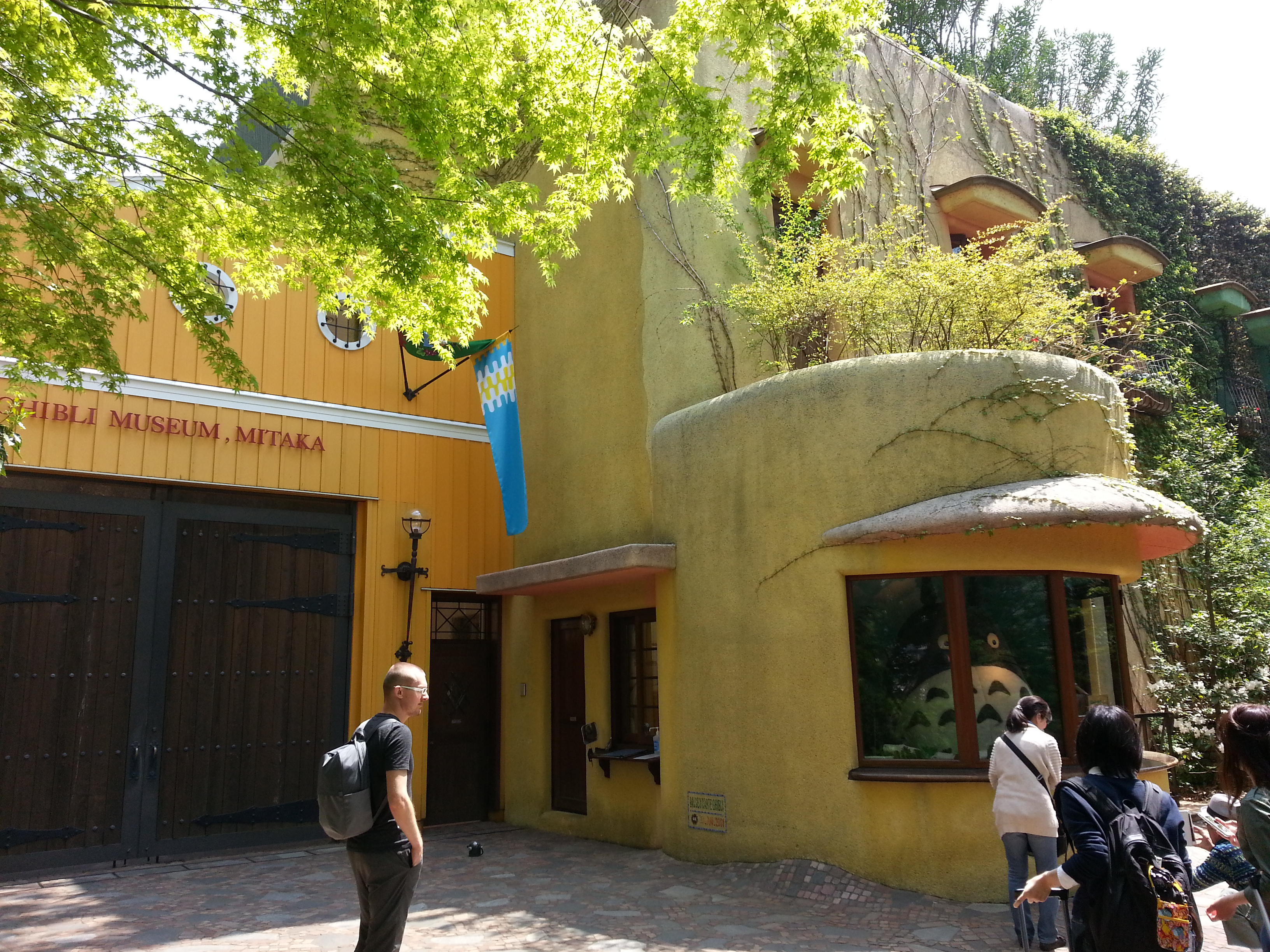 EN: Today I finally managed to fulfill one of my long-term plans – the visit of Ghibli museum in Mitaka. Even if you know virtually nothing about Anime, this animation studio is well-known for its commercial success all around the world, especially in the US and UK. Princess Mononoke, Spirited Away, Howl's Moving Castle and My neigbour Totoro – all critically acclaimed works which are presented in this museum. Since Ghibli is famous and its museum too, it's very tricky to get the ticket. Foreign visitors have pretty much two options, as far as I am concerned – one, order the ticket through one of the official distribution agencies in your home country, or two – get the ticket yourself in Japan through the ticketing machines in Lawson stores. The first part is quite straight forward, but only in case you have a holiday with exact daily plans. I chose the second option, as I didn't really know when I wanted to visit the museum – which was not an easy task to do. The ticket machines (check my post about Anime Japan 2014, I had the same problem) do NOT communicate in English. Therefore you have to find someone who can help you out with the ticket purchase. I was lucky, one of my housemates attended the Japanese course in English and her tutor was so nice that she agreed to go to Lawsons with me and to get me the blasted ticket. However, that wasn't particularly easy even for a native Japanese speaker – the purchasing system is not very bright, it doesn't show you the dates which are sold out, so we had to try and fail until our success every day for two weeks on the touchscreen to finally reach the date, during which there were still some tickets available. Plus – you have to enter your name, in Hiragana and Katakana + Kanji of course, which is, for most of the foreigners, quite a difficult task to do. Well, we managed, somehow. So I got the ticket for Thursday, 12PM. When I was on my way to the museum, I was slightly late, so I almost broke my legs to get there on time, I was afraid I would miss the entry time – but what a surprise, I arrived 10 minutes before the entry time, the visitors entered and left however and whenever they wanted – I don't really understand the reason why there were time slots in the machine and how do they work, but hey – I got inside.
SK: Keďže ma postihli pracovné povinnosti, ktoré celkom nečakane skomplikovali cestovateľský a blogerský rytmus, v zasielaní nových príspevkov som sa značne oneskoril. Dnes to ale napravím a publikujem tri aktualizácie, hoci fotiek kvôli viacerým okolnostiam veľa nie je. Vo štvrtok som sa konečne dočkal návštevy múzea slávneho štúdia Ghibli, lístok som kupoval asi týždeň predtým a bola to značná otrava. Zo zahraničia sa totiž kúpiť dá, no iba vo vybraných krajinách a v špecifických cestovných agentúrach. Čiže ľudia, ktorí majú dopredu navrhnutý výlet, nemajú až taký veľký problém. Ja som ale nevedel, v ktorý deň mi tá návšteva bude vyhovovať, preto som si chcel kúpiť lístok priamo v Japonsku. Chyba lávky – jediný spôsob, ako sa to dá, je ísť do jedného z obchodov siete Lawsons a tam skúšať šťastie so strojom na lístky. Obchody (convenience stores) v Japonsku a hlavne siete 7eleven a Lawsons majú totiž v predajniach niečo ako kopírky, cez ktoré si môžu domáci zakúpiť lístky na rôzne podujatia (už som cez to raz prechádzal v prípade Anime Japan, ak si pamätáte) a do rôznych múzeí a Ghibli patrí medzi ne. Problémom je, že mašiny "nehovoria" po anglicky a okrem toho je spôsob nakupovania značne nelogický. Uvediem moju skúsenosť – lístok som kupoval s domácou Japonkou a aj napriek tomu sme mali problém. Dôvodom bol výber dátumu a času návštevy – vôbec neboli zablokované alebo vyznačené sloty, ktoré už boli kompletne vypredané a preto sme postupovali ako opičky v labáku, teda systémom pokus-omyl. Napokon som teda natrafil na štvrtok a rozhodol som sa vybrať čas 12.00. Keďže som ráno trochu meškal a Mitaka je od mojej stanice dosť ďaleko, dosť som sa hnal, aby som ten čas stihol. O to väčšie bolo moje prekvapenie, keď som tam došiel (časy v mašine boli 10AM, 12, 2PM a 4PM), turisti si vstupovali do múzea kedy sa im len zachcelo. Nemám teda celkom jasno v tom, z akého dôvodu som si vlastne vyberal čas vstupu, keď sa ľudia dostali dnu zjavne aj mimo časov, ktoré boli dostupné v mašine.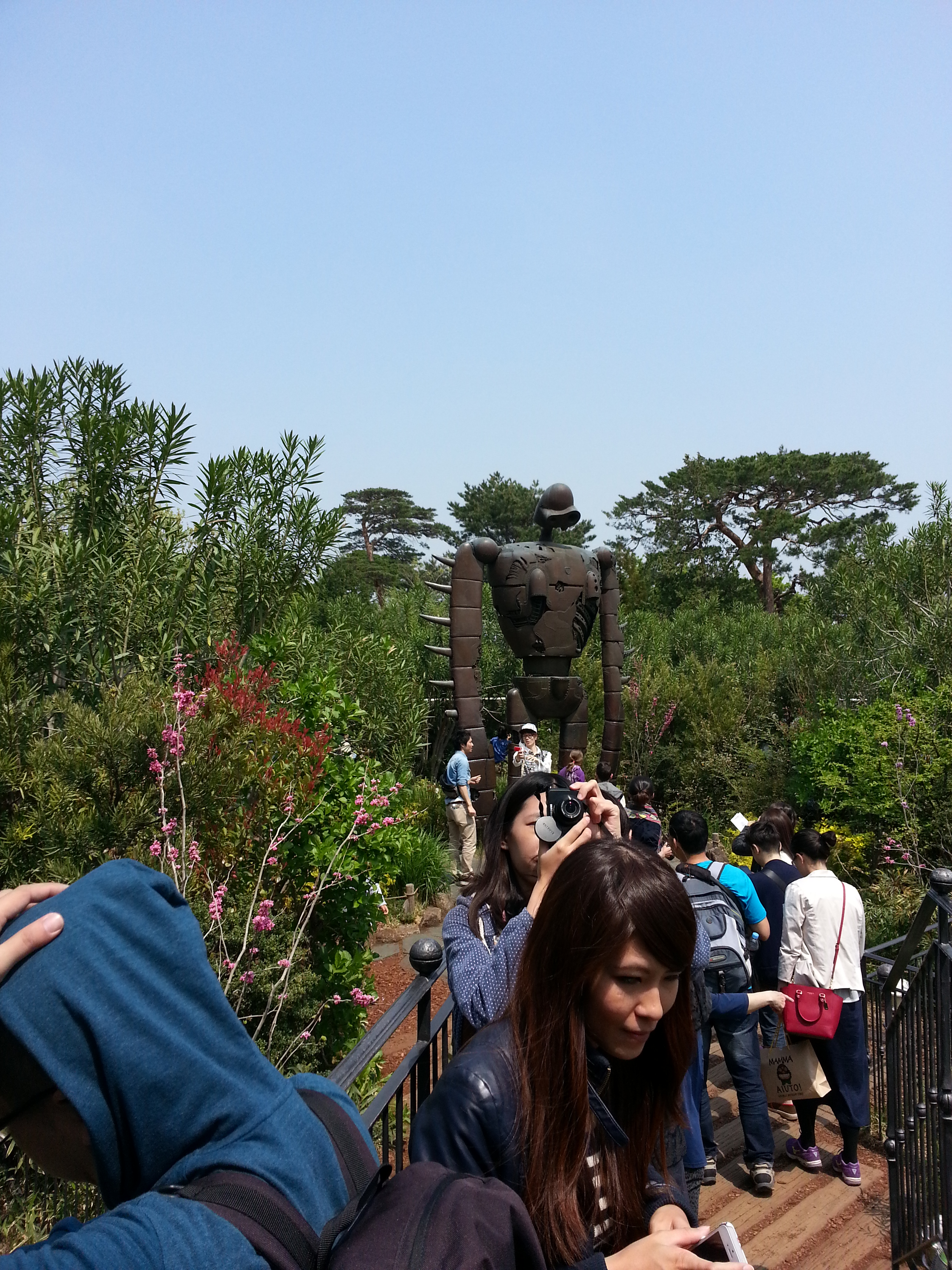 EN: You can get the rough idea about the situation inside of the museum from the picture above. It was rammed. There were plenty of people virtually everywhere, on every step, on every corned, inside of each and every room. Taking pictures and shooting videos inside the museum premises is strictly prohibited except in designated areas (as one of the above), if you show even the smallest attempt to take the picture, you will be approached by one of the staff members with a warning. There were moments, when people had to wait in queues, which is not nice when you are visiting the film museum. Well, what can I do about it. The museum itself is really something special, if you follow the films made by Miyazaki, you will definitely like it, it's like the gate to his world – there are rooms which are exact copies of the scenes from the films, crafted with every little detail and every single artifact shown in the movie. It's really something hard to describe.
After the visit I had a walk planned to JAXA headquarters in the same town district. JAXA (Japan Aerospace Exploration Agency) is a Japanese version of American NASA, which has various campuses and centers all around the country, most of them accessible for tourists. This one is in Chofu, it's the HQ, the Aerospace Center. You need a passport to enter the premises, there are numerous models and videos, pictures and a very welcoming staff, members of which spoke very good English. In case you are interested in space programs and all the related stuff, you will definitely like this place. I was recommended to visit other JAXA centers, I actually visited one of them later on during my last days in Japan and it was even better than this one. But I am very thankful I was told about this in Chofu HQ.
SK: Z fotky vyššie je vám asi celkom jasné, ako to v múzeu vyzeralo. Bolo naozaj fascinujúce, niečo ako vstupná brána do iného sveta, no fotografie boli zakázané a ak niekto čo i len povytiahol mobil alebo fotoaparát, ihneď k nemu pristúpil jeden z pracovníkov múzea (a tých bolo naozaj požehnane, v každej miestnosti aspoň jeden). No najväčším problémom bol počet ľudí vnútri, ktorý som naozaj nečakal. Viem, že múzeum je populárne a že lístky doň sú vypredané niekedy aj na dva týždne dopredu, no v niektorých momentoch a priestoroch sa človek ani nedokázal pohnúť, viď obrázok hore. Ak bola niekde nejaká významná postavička z jedného z Miyazakiho filmov, tak pred ňou, pod ňou a vlastne všade okolo nej stáli davy ľudí (hoci okrem prípadu vyššie a ešte jednej výnimky sa fotiť nesmelo) a civeli na ňu bez pohybu. Tým pádom sa zážitok z návštevy značne zhoršil, človek si jednoducho nemohol vychutnať všetko, čo chcel.
Po návšteve múzea som sa vybral do blízkeho parku Inokashira, z ktorého som si naplánoval cestu do JAXA. Ide o japonskú verziu americkej NASA, ktorá má v Japonsku viacero otvorených miest pre návštevníkov, časť, ktorú som navštívil ja, bola v Chofu. Veľmi zaujímavé vystavené kúsky pre každého, koho tieto veci zaujímajú (samozrejme, fotiť sa opäť nedalo všade a pri vstupe do areálu si pripravte pas), veľkým plusom je fakt, že každý zamestnanec, ktorého som tam stretol, hovoril plynule po anglicky. Ľudia, ktorí robia návštevníkom exkurzie po areáli, pracujú priamo pre agentúru a preto je naozaj skvelé s nimi viesť diskusiu. Okrem toho mi odporučili ďalšie dve miesta blízko Tokia, kde má JAXA svoje stanoviská, ktoré sa určite budem snažiť navštíviť. Z JAXA som šiel rovno domov, na tento deň cestovania a chodenia naozaj stačilo.