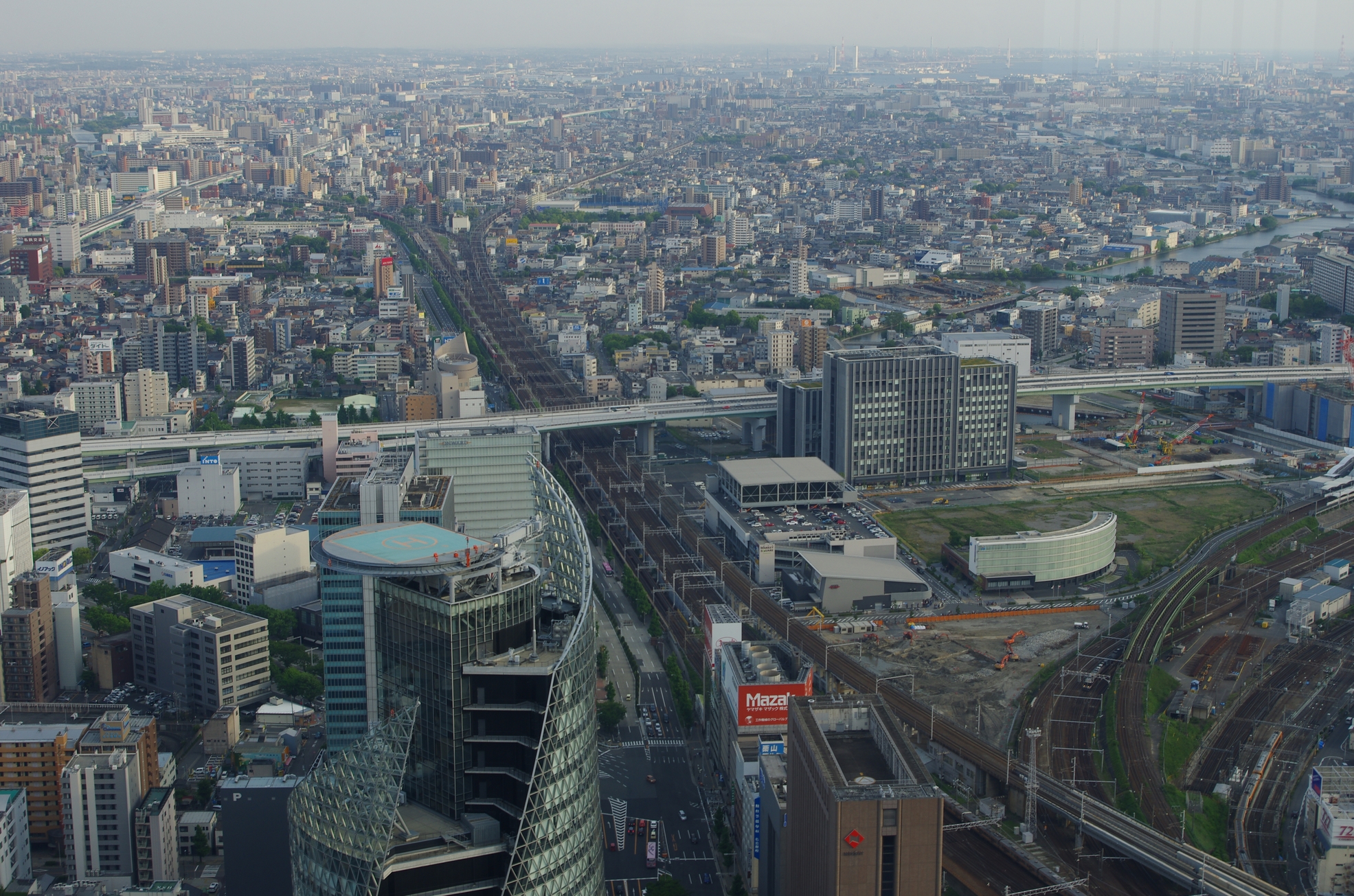 EN: I was quite busy in the last few days, therefore I did not update my blog. I concluded the long 50-days long period in Tokyo and moved to Osaka, from where I immediately started other trips using JR Pass. Golden Week considerably messed up my plans, I originally wanted to go to Nagasaki, but all the trains were booked. I had to move this journey and I undertook it during the weekend. So the backup plan was the visit of Nagoya, which is one of the largest cities in Japan and it has quite a lot to offer. I managed to see all the sights and places I wanted to see, but there are still some attractions left, which I hope I will be able to see in the future.
Firstly I headed to Nagoya castle, which is not as nice as the one in Matsumoto, but it's still worth visiting. There is a hall with important paintings, some kind of a palace, but since it was in the middle of reconstruction, I did not get inside. The most important and the most impressive place in Nagoya which I couldn't miss was the Toyota Commemorative Museum of Industry and Technology. So far, this is the largest museum I have seen in my life, is I'm not mistaken, as the name indicates, it depicts the history of the largest car manufacturer in the world – Toyota. Since a lot of Toyota plants and its headquarters are placed in the region around Nagoya, the museum is only one of the few places related to Toyota, which can be visited by tourists. The museum I visited was built on the premises of the original Toyoda plant (yes, Toyoda, the company started it's business with automated loom production and only in 1933 it started to operate in automotive industry.
The museum itself is massive, I didn't even have enough time to see everything in detail. Everything is bilingual (Japanese and English), you can ask for English-speaking guide as well. You can see how the textile producing machines operated in the past, how Toyota shifted its business towards car production, how it happened, there are real time performances of car-producing machines and robots and other things. It's really very comprehensive museum, you need quite a lot of time to see everything it offers.
My last stop in Nagoya was its tallest building Midland Square, which promised a nice view of the city from the 45th floor. Unfortunately the design of its open-air observatory is really weird, so you can see pretty much everything, but it was virtually impossible to take pictures. The entry costs 730 yen, so the visit depends on your decision.
SK: Keďže platnosť môjho JR Passu už čoskoro vyprší, musím ho v posledných dňoch využívať naplno. Preto je môj čas na aktualizáciu blogu obmedzený, presúvam sa po celom juhu Japonska a to je časovo dosť náročné, pričom po X kilometroch denne nemám večer dostatok energie na to, aby som hľadel do laptopu. Keďže som sa presťahoval z Tokia do Osaky, praktizujem svoje cestovanie odtiaľ, momentálne sa presúvam do Hirošimy, takže mám dostatok času na nové posty.
Týždeň plný sviatkov mi poriadne zamiešal plány, pôvodne som počas utorka a stredy plánoval návštevu Nagasaki, no kvôli beznádejne vypredaným vlakom to nebolo možné. To sa presúva na víkend, takže náhradným plánom bola návšteva Nagoya. Toto mesto patrí medzi najväčšie v Japonsku a má taktiež k dispozícii niekoľko atrakcií, nemal som možnosť vidieť všetky, no tie, ktoré som vidieť chcel, sa mi podarili.
V prvom rade išlo o Nagoya Castle, teda hrad, v jeho areáli sa nachádza aj akýsi palác s nástennými maľbami, ktorý je ale v tejto dobe v rekonštrukcii a značne narúša celkovú atmosféru a samozrejme aj scenériu. Jeho návšteva je ale povinná, nie je síce ani zďaleka tak pekný ako ten v Matsumoto, no stále je OK. Po hrade nasledovala návšteva múzea Toyoty, ktoré je jedno z najlepších, aké som kedy videl. Toyota totiž začínala ako Toyoda a pôvodne sa sústredila na textilný priemysel, obrovská hala je preto venovaná tejto časti jej histórie. Všetko je bilingválne, Angličtina je k dispozícii pri každom popise a v každej interaktívnej časti, pričom všetky tie stroje aj naozaj fungujú a raz za čas ich pracovník múzea predvádza. A tým myslím naozaj predvádza – nie iba spustí pohyblivé časti, ale normálne pracuje s bavlnou, prípadné tká látku a podobne.
V prechode do automobilovej časti múzea je malá miestnosť, v ktorej je predvádzaný výrobný proces kovových súčiastok do motorov, opäť do detailov. No a najväčšia časť s dvomi poschodiami je venovaná kompletnej histórii Toyoty, od jej prvého prototypu a úplných začiatkov s rozoberaním amerického Chevroletu, až po ďalší rozvoj. Je škoda, že do múzea som prišiel prineskoro, okolo tretej popoludní, mal som teda iba dve hodiny na jeho návštevu. Odporúčam viac času, pretože je tam toho k dispozícii naozaj dosť.
V závere návštevy Nagoya som sa ešte vybral do jej najvyššej budovy Midland Square, ktorá ponúka vyhliadkovú plošinu pre turistov na 45. poschodí, je síce "open air", ale má divný dizajn a žiadne poriadne fotky sa spraviť nedali. Výhľad na mesto je pekný, no aj ten je obmedzený, človek sa kvôli hlúpemu dizajnu nemôže naplno pokochať panoramatickými výhľadmi. Vstupné je 730 yenov, odporúčam preto zvážiť.