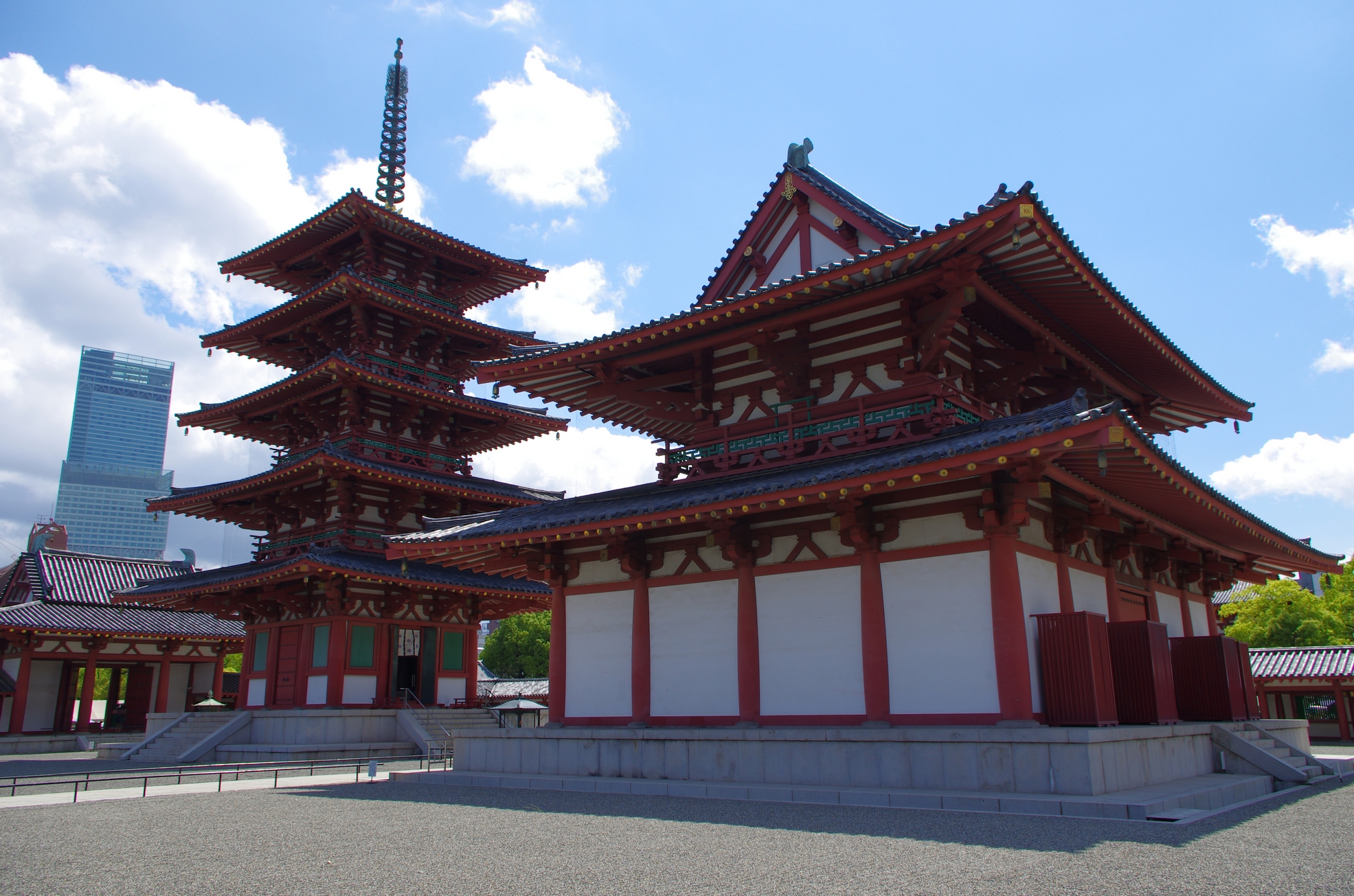 EN: I started my sightseeing in Osaka on Wednesday, since I was still a bit ill, I didn't want to use public transport. Therefore I prepared a plan to visit the three closest attractions, including the temple Shitteno-Ji, Den-Den Town and Namba. All of them were in walkable distance, so it wasn't a problem, plus I welcomed a little walk after few days inside my apartment. There are some pictures of the tallest building (not a tallest structure, though) in Japan, Abeno Harukas, which was very close to my place. It's the 90th tallest building in the world, which is in contrast with several hundred years old neighboring temple. There is an observation tower on the top of the skyscraper, but I didn't visit it.
SK: Takže v stredu som začal prieskum Osaky naostro, môžem si zaškrtnúť prvé turistické destinácie, ktoré som mal podľa rôznych príručiek a webov navštíviť. Keďže som stále chorľavý a na cestu metrom a MHD som sa kvôli kašľu veľmi necítil (nechcel som vyzerať ako idiot, ktorý lezie ako bacil s cieľom nakaziť iných), vybral som si najbližšie možné zaujímavé miesta k môjmu dočasnému bydlisku. V nadpise sú tri, okrem nich je ešte na fotkách vidno aj mrakodrap Abeno Hakuras, ktorý je najvyššou budovou (pozor, budovou, nie konštrukciou) v Japonsku a 90. najvyššou budovou sveta. V kontraste s niekoľkostoročným chrámom Shitennoji pôsobí celkom zaujímavo, otvorili ho iba pred dvomi mesiacmi a na vrchole mrakodrapu je vyhliadková plocha pre turistov, ktorú neskôr navštívim.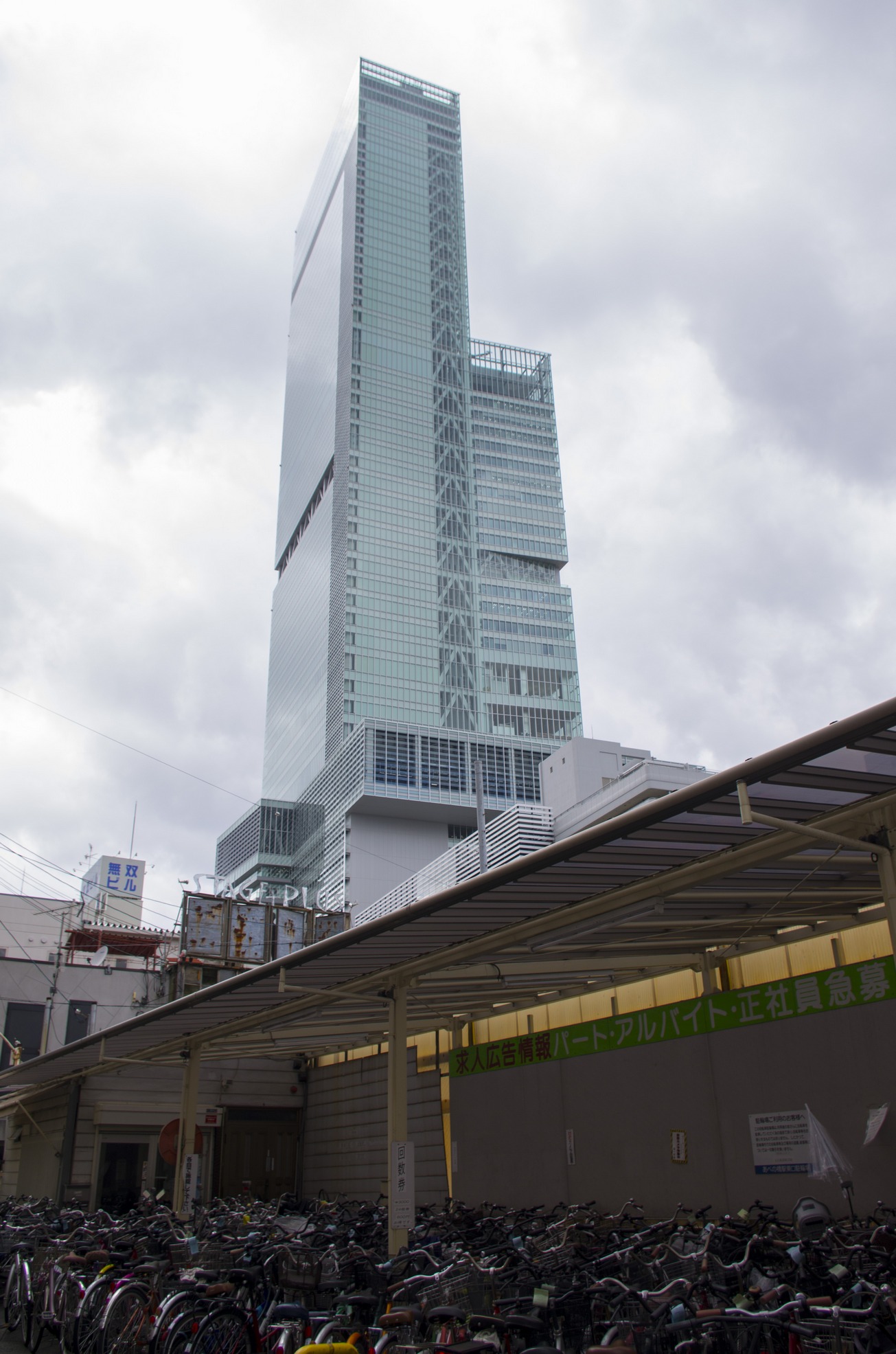 EN: Shitteno-Ji was built in 593, it is therefore one of the oldest Buddhist temples in Japan and thus it's one of the most important ones. When I visited it, there was some kind of a boot sale going on (although without cars), people were selling their belongings and it was quite busy over there. I actually welcomed this kind of a change, it was a nice insight into the life of locals. After my exploration of the temple I headed towards Namba, while I was aware that I would cross Den-Den Town. It's something like Akihabara in Tokyo, although much smaller in size, there were still numerous shops with electronics, manga and anime goods. Unlike in Akiba you can actually haggle with the sellers, which is not usual in Tokyo. On my way there I found another shrine, where I relaxed for a bit, took a picture of local cat and afterwards I just wandered around Namba and returned back home.
SK: Shitennoji bol postavený v roku 593, je teda najstarším budhistickým chrámom v Japonsku a preto patrí medzi tie najdôležitejšie. V čase mojej návštevy sa tam – priamo v areáli konal nejaký trh (niečo ako car boot sale v UK, kde ľudia predávajú svoje nepotrebné veci), to by mýtického Chesúsa nepotešilo, no pre mňa to bol o to lepší zážitok. Celý komplex bol ale preplnený ľuďmi, takže spraviť normálnu fotku bolo skoro nemožné…Odtiaľ som sa po vlastných vybral do Denden Town v časti Nipponbashi, neďaleko kľúčovej stanice Namba. Je to obdoba Akihabary z Tokia, posiata hromadou obchodíkov a obchodov s elektronikou a Otaku vecami (Anime, Manga), no na hlavné mesto sa to samozrejme nechytá. Jediným rozdielom je, že tu sa dá o cenách vami vybraného produktu handrkovať, čo v Tokiu, pokiaľ viem, možné nie je…Naďabil som aj na nejaký ďalší chrám, v ktorom som cvakol mačku chlípajúcu vodu z purifikačnej fontány…a to je všetko.