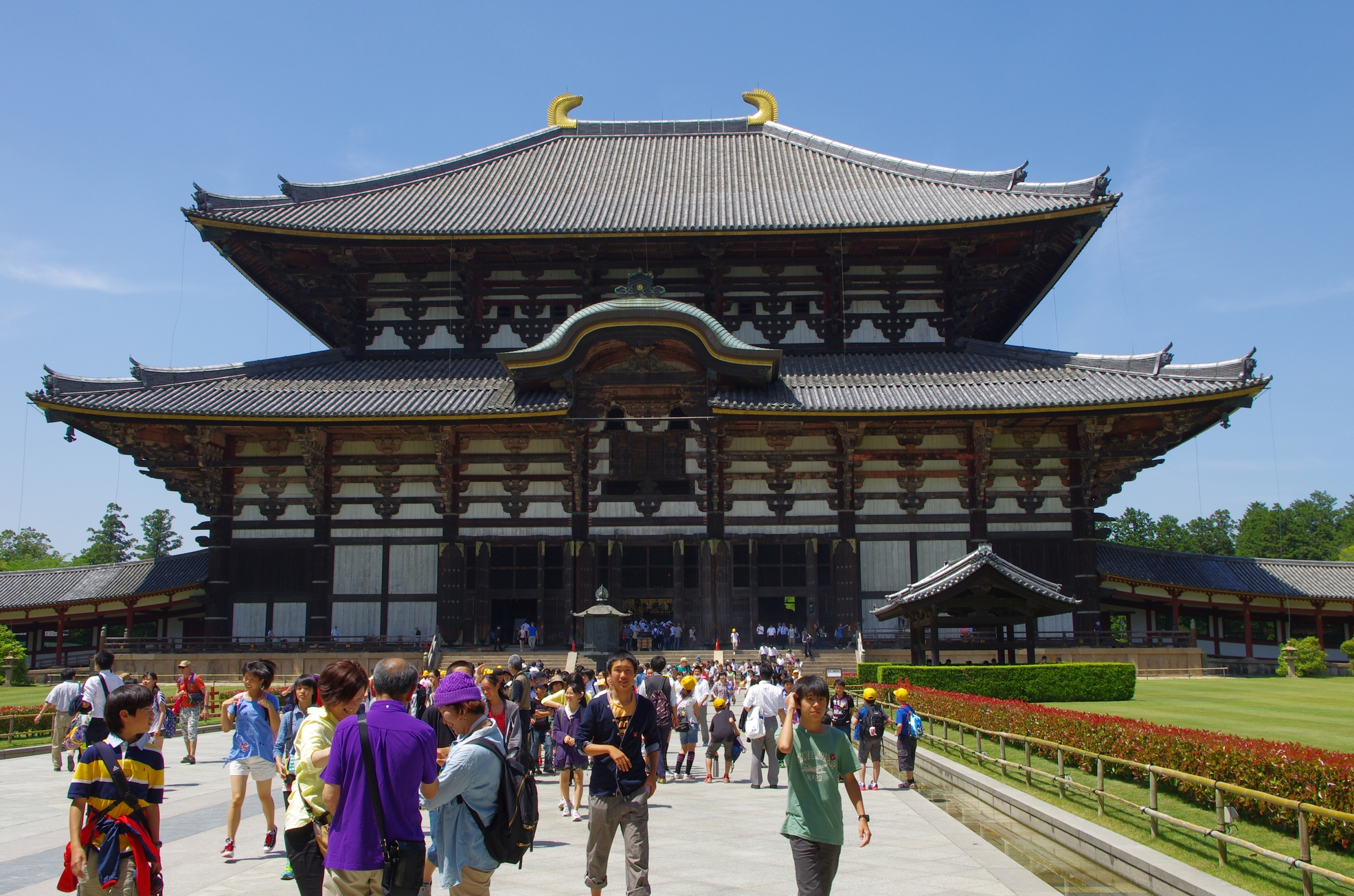 EN: Nara is one of the most famous and one of the busiest tourist spots in Japan, its exceptional number of temples and shrines is well-known just as numerous annoying deers which are spawned all around the tourist area. Since I've had enough of these creatures on Miyajima island, I wasn't fascinated with their presence and I tried to ignore them, that is, however, not always possible. As the outside temperature was around +32 degrees (Celsius), the smell from the deers was not really the best thing ever.
SK: Nara je jednou z najslávnejších a najznámejších turistických atrakcií v Japonsku, vyniká hlavne komplexom chrámov a svätýň, plus nechýbajú samozrejme všade prítomné otravné jelene. Keďže tých som si už dosť užil na ostrove Miyajima, na rozdiel od ostatných turistov ma nefascinovali – práve naopak, v teplote +32 stupňov v tieni smrdeli na celé okolie, takže som sa im snažil vyhýbať.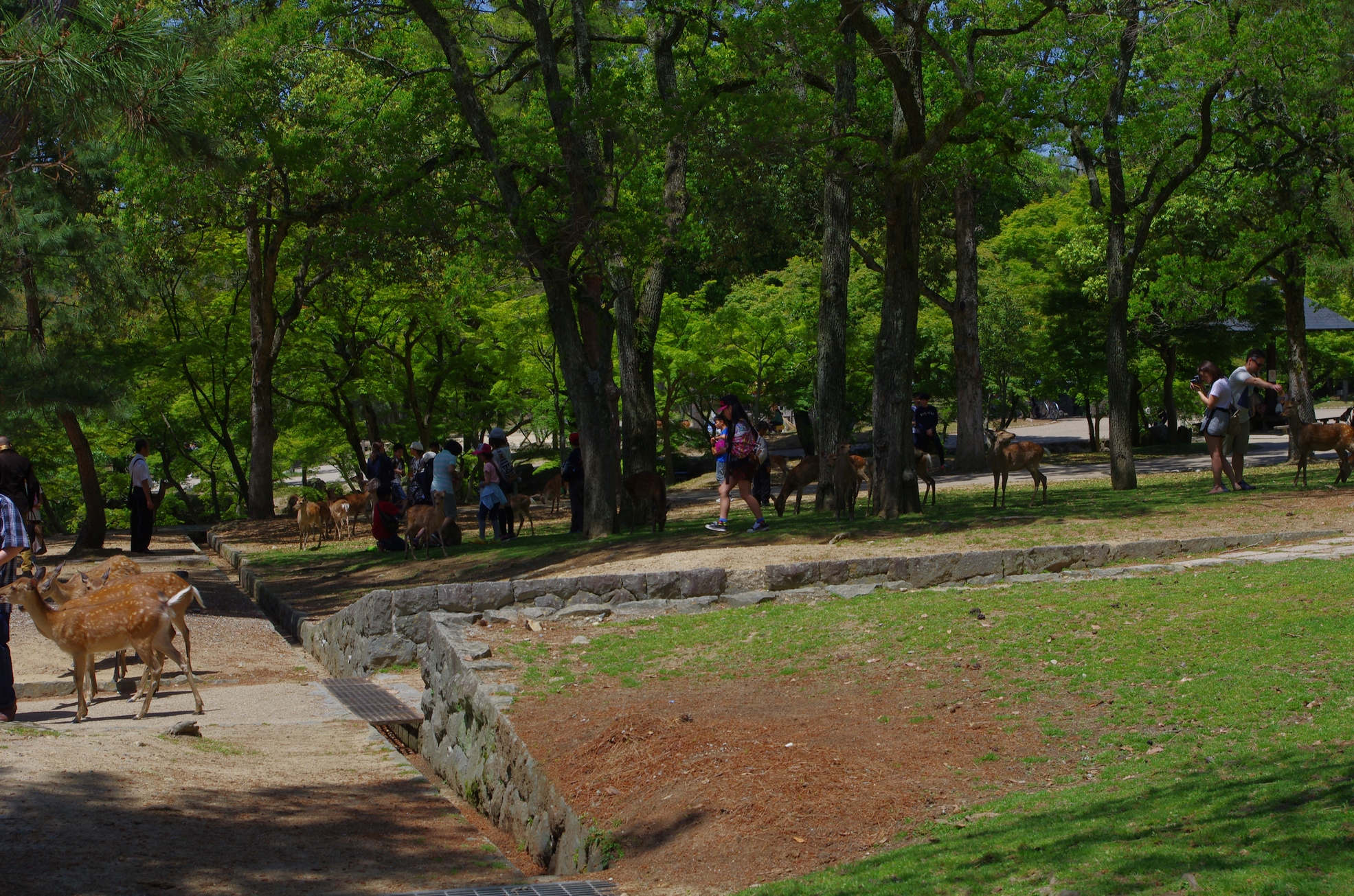 EN: Since my visit of Ghibli Studios I always thought that that was the busiest tourist spot in Japan, for being easily accessible from Tokyo and being quite popular abroad. But Nara changed my mind. There were queues of buses waiting for a free parking spot and I mean really long queues – they lined up from the temple district down to the city center of Nara and that wasn't a short journey. Most of the buses were full of school children and young people who are – I must say unfortunately – sometimes really annoying. Since you are a foreign tourist, they are attracted to you and they want to speak in English, just to practice the language. Now I do understand that this is certainly the best way to practice foreign language, but me being not English native speaker I believe I would not stand as a perfect example, plus, you just want to sit somewhere or rest after a long walk and you are virtually immediately surrounded by children wanting to speak English. Sometimes they just walk towards you, say 'excuse me' and then simply run away, having a laugh. I wasn't the only one who had this experience – I saw many people suffering from the same issue. I am a very friendly and open-minded person, but I believe this is just not right, yes, if you do it once or twice, you don't mind, it's actually pretty entertaining, but once this happens every few steps, it becomes quite a burden and you just want to quickly disappear from the area.
Anyway – the biggest advantage of Nara is that most of the unique attractions are one one spot, you can easily walk from one to another. Therefore you don't have to move around the town, which is great especially in summer days, when the weather is so hot that spending time in public transport would be unbearable. I didn't visit all the sights in Nara, I hope I will return over there once more in the future, hopefully close future.
SK: A pokiaľ som si myslel, že najviac natrieskanou a frekventovanou atrakciou je štúdio Ghibli, tak to som bol na veľkom omyle. Nara sa doslova hemží turistami (na jednej z fotiek je vidieť časť kolóny autobusov, ktoré do Nary prichádzali v čase, keď som sa ja s ňou lúčil, čo bolo asi 4PM, stáli tam na ceste, pretože nemali kde zaparkovať) a to hlavne tými mladšími, keďže tam chodia na zájazdy celé školy. No a to je pre zahraničného turistu kameňom úrazu – deti chodievajú za vami a snažia sa o angličtinu (doslova "snažia", pretože už "hello" je pre nich kvôli zlému systému výučby výslovnosti "herro"), prípadne prídu k vám, vyhlásia "excuse me" a keď teda čakáte, či niečo chcú, tak s výskotom a smiechom ostatných spolužiakov utečú preč. Toto som (a nie len ja – hlavne ľudia, ktorí nahlas hovorili po anglicky) zažíval pravidelne a po asi desiatom pokuse to začalo byť naozaj otravné a ľutoval som, že som si práve včera nevzal so sebou veľké slúchadlá (hoci v tej teplote by som s nimi asi veľmi trpel). Takéto veci ma nezvyknú v bežných situáciách rozhádzať, som ochotný to podniknúť dva alebo trikrát, no keď sa to začalo diať na pravidelnej frekvencii, mal som sto chutí z celého areálu odísť. Nemyslím si, že chvíľková konverzácia s turistom, ktorý ani nemusí byť rodený Angličan, dieťaťu pomôže, hlavne ak má ten turista úplne nevhodný prízvuk a výslovnosť – môže pochytiť aj iné muchy okrem tých, ktoré už má a ktorých sa chce zbaviť.
V každom prípade výhoda Nary je, že má skoro všetky významné atrakcie natlačené do jedného areálu, turista sa teda nemusí terigať po celom meste. Po návrate z Okinawy máme ešte niekoľko dní čas, takže je možné, že sa ešte vrátim do inej časti mesta kvôli jednému chrámu. Neskutočné teplo spojené s vysokou vlhkosťou ma vyšťavili a množstvo turistov na každom kroku komolilo mnoho pokusov o fotky…