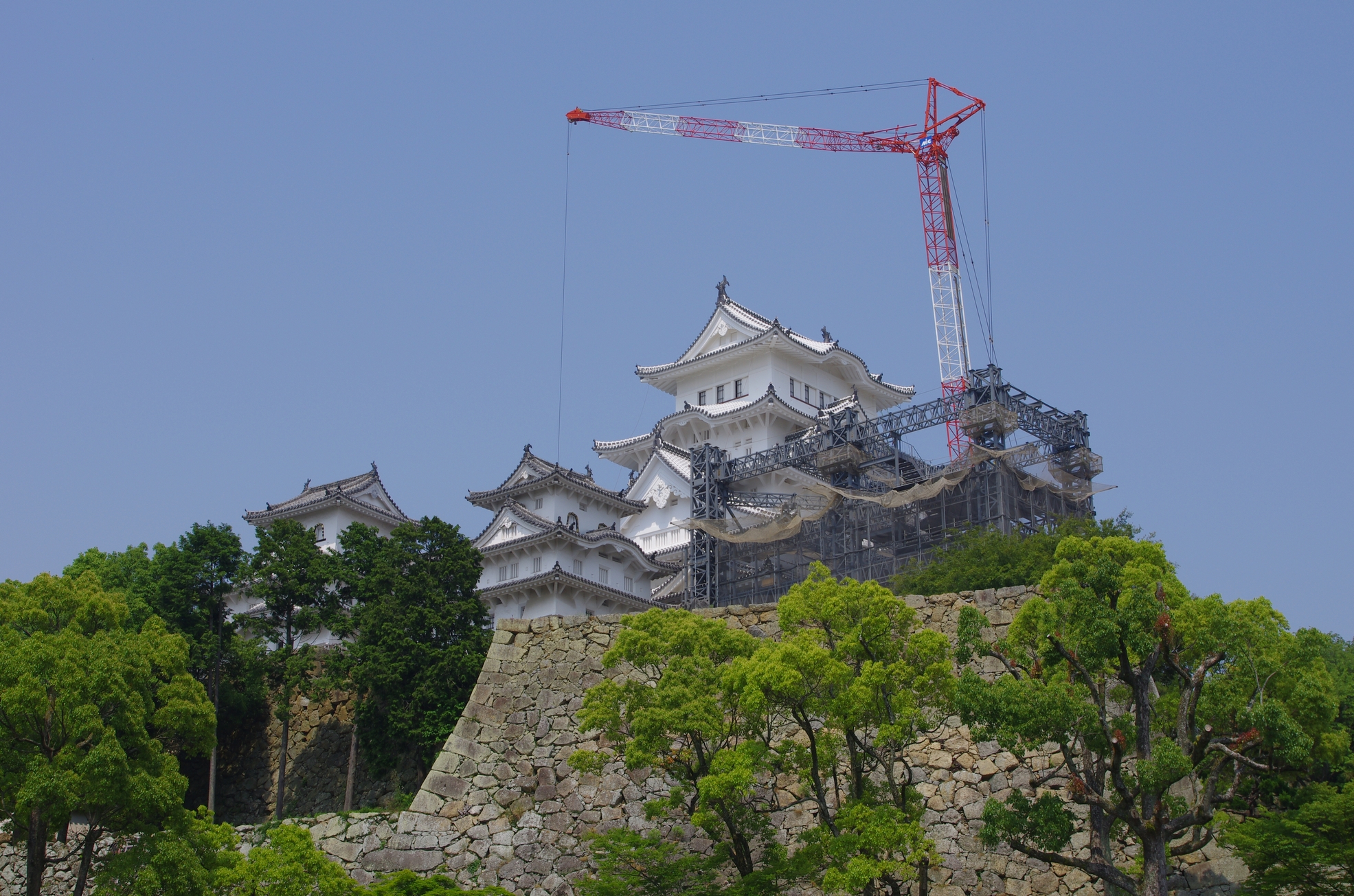 EN: Himeji is a city which I had known before traveling around Japan, it's the country's icon and there is no documentary film or book which would not mention it. It's only 20 minutes away from Osaka, unfortunately there are not too many tourist sights in the city except the famous castle. This is, of course, my opinion and it relates to the general type of tourist – the kind that doesn't have time to explore the town into detail and search for new interesting place. There is, of course, the park, which is located next to the castle, but you can't expect to spend a lot of time over there. I wasn't entirely lucky with my visit of Himeji, as the castle was being completely reconstructed and if I had come few days earlier, I wouldn't be able to see it at all – it was hidden under massive structure, but when I came to Himeji, it was already disappearing and I could at least see a part of it. It was closed for tourists, which was even worse. The reconstruction work will continue until 2015, I hope I will come to Japan afterwards and visit this place again, it looked really fantastic.
SK: Himeji je miesto, ktoré poznám už oddávna z jedného celkom zaujímavého dôvodu – je to ikona hradov Japonska a nie je dokumentárneho filmu alebo cestopisu o krajine, ktorý by ho zabudol spomenúť. Himeji sa nachádza iba necelých 20 minút Shinkansenom od Osaky, okrem Hradu v meste nič podstatné pre turistu nie je a preto som spojil návštevu tejto pamiatky s prieskumom neďalekého Kobe. Už vopred som vedel, že hrad prechádza podstatnou rekonštrukciou, kvôli ktorej je jeho návšteva menej atraktívna, no žiaľ nemohlo všetko vychádzať podľa mojich plánov. Oprava potrvá až do budúceho roka, mal som ale šťastie, že som sa do Himeji dostal v dobe, kedy už bola preč časť obrovského lešenia, ktoré ešte niekoľko týždňov predtým skrývalo celú hlavnú budovu. To ale na druhej strane znamenalo, že od marca až približne do júla (ak si to správne pamätám) nie je možné navštíviť vnútro hradu. Takže fotky sú také, aké sú, hrad je nepochybne krásny, škoda len, že som ho nemal možnosť vidieť v celej jeho majestátnosti.
EN: Kobe is most well-know for the infamous Great Hanshin Earthquake which occured in January 1995 and during which around 6500 people died. Since the population of Kobe is roughly 1,5 million, it could have been even more tragic. 150 000 buildings were either destroyed or damaged, a massive part of very important port was destroyed as well. There is a Port of Kobe Memorial Park shown on one of the pictures below with the remains of the quake – you can imagine how the whole place looked like, it was totally devastated. Since that day Japanese authorities started to increase the building safety standards and emergency response plans, which I believe did help. When I was leaving Tokyo, there was a 6.3 quake, the one in Kobe was 7.3 and virtually nothing happened in Tokyo. Anyway – Kobe is really attractive and dynamic city, its history was heavily influenced by international trade with foreign countries, you can actually see that in the city, where you can find some quarters with European design. There was actually one part of town (I remember a lot of high street shops like Zara and Swarowski), which looked like Prague or Budapest. There are many things to see in Kobe, but since my time was limited, once again I hope I will be able to visit it in future.
SK: Kobe je neslávne známe hlavne vďaka zemetraseniu Great Hansin Earthquake, ktoré mesto postihlo v januári 1995 a počas ktorého prišlo o život skoro 6500 ľudí. Keďže populácia Kobe je asi 1,5 milióna obyvateľov, straty na životoch boli relatívne nízke, no o to horšie dopadlo mesto samotné – až 150 000 budov bolo poškodených alebo zničených, obrovská časť jedného z najdôležitejšieho japonského prístavu tiež (na jednej z fotiek vidno pamätník so zachovanou časťou, ako to vtedy vyzeralo) sa taktiež porúčala a mesto postihli veľké požiare. Od tohto momentu sa Japonsko viac zameralo na bezpečnosť stavieb a na technológie, ktoré zabezpečujú ochranu pred tak častými zemetraseniami. Sila záchvevov v Kobe bola 7.3 na základe japonskej stupnice, v Tokiu som pred mesiacom zažil 6.3 a nepadol ani jeden dom…Kobe je atraktívnym mestom, ktorého história bola ovplyvnená práve prístavom, preto človek natrafí na štvrte pripomínajúce európsku architektúru. Do Kobe sa asi ešte vrátim, pretože som vynechal niekoľko miest (vrátane múzea o zemetrasení), ktoré chcem navštíviť a je prakticky za rohom.