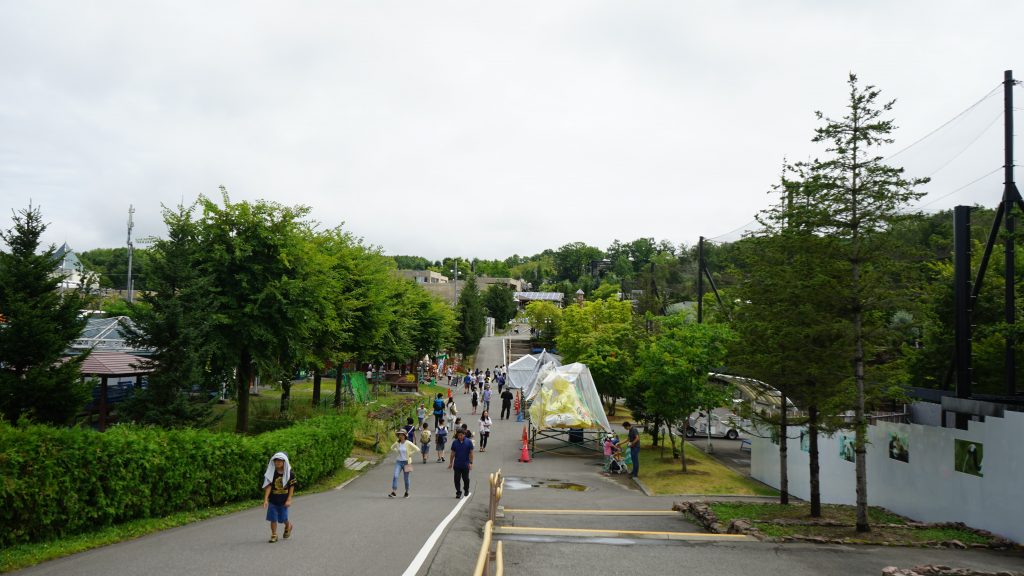 EN: Last part of my travel holiday in Hokkaido took place in the middle of the island – Asahikawa, the second largest city. When I was spending my time way above in the north, I had a great weather on Rishiri island and in Asahikawa, that unfortunately changed. There was a weakening typhoon approaching Japan and even though it was not windy or anything, it did manage to mess up the weather. Thus, my planned trip to Daisetsuzan will have to be undertaken next time. But of course, I had to find an emergency plan, I did not want to stay in my hotel, wasting whole day of my holiday.
If there is anything else Asahikawa is famous for except ramen and winter ice festival, it is Asahiyama ZOO. Apparently one of the most famous ZOOs in Japan. Since I was staying in Y's Hotel just next to the train station, I had bus departures for ZOO just under my window, thus I said to myself "why not". I had nothing else to do. I got the bus tickets in local Lawson shop, I got the entry ticket to the ZOO itself in the tourist information center inside of the station, knowing how easily the queues can form over here in Japan. My decision was good, since after approximately 40 minutes of bus ride people had to wait for their tickets, while I just showed mine and I was in.
Now, don't get me wrong. I am trying to find positives in everything, especially when it comes to traveling and tourist attractions. But that place did not live up to my expectations. I mean – yes, it was a large ZOO with maybe slightly outdated facilities, it had in many ways interesting, but also in many ways really daft design. E.g. – there was a massive cage for very large owls, which also included some kind of a covered viewing platform, in which the various windows of random design pointed to…nowhere. Or to the grass. Or to the middle part of the trees. Nothing to do with owls or attempting to spot them. I really did not get the idea which was in designer's head when he was designing that place.
Also, the number of animals was rather limited – from amphibious to more exotic stuff (yes, I know it is Hokkaido and thus a "cold" place, but we have a massive and famous ZOO in Bojnice in Slovakia and I dare to claim that our temperatures go much lower during the winter, so no excuses over there), no big cats whatsoever, the best place with the most inventive / interesting design was the monkey park for shimpanzees and other mental monkeys screaming around.
To conclude this – I did not consider this as a waste of my time, nor I regret my decision do visit the ZOO. I had nothing else to do anyway. I just expected more, considering the hype around it. Mind you – I did not take any other factor into consideration. Yes, there were many families and children – I do not mind, they belong there more than I did, it is a good place to learn about the beats and their majesty, to respect them and protect them. It was just slightly underwhelming experience from me. Maybe I am comparing it too much with the ZOOs I visited in Europe. Maybe there are better conditions – I do not know, this is not my field. But this place was recommended by virtually every website, including Japan Guide, which I trust a lot.
Well, no holiday is perfect, I guess. But at least I did not waste my day. Later on I enjoyed the walk in evening Asahikawa and visited a festival, with beer, no photos.
SK: Posledná časť mojej dovolenky na ostrove Hokkaido začínala v druhom najväčšom meste na ostrove, Asahikawa. Keď som trávil svoj čas na úplnom severe, užíval som si skvelé počasie, cyklistiku, turistiku. Po príchode do stredu ostrova sa ale všetko žiaľ (aspoň načas) zmenilo. Slabnúci tajfún sa postaral o zhoršené počasie a dážď, no mohlo to dopadnúť aj oveľa horšie. Pôvodne som plánoval túru v národnom parku Daisetsuzan, no to nemalo v daždi žiaden zmysel a preto si to nechám na ďalšiu návštevu, potreboval som ale náhradný plán. V hoteli som zostať nechcel, premrhať deň dovolenky aj vzhľadom na cenu za deň, to by nebolo ideálne rozhodnutie.
Asahikawa je známa hlavne svojimi polievkami ramen a zimným festivalom, no okrem toho je jej atrakciou číslo jeden jej ZOO. Keďže môj Y's hotel sa nachádzal hneď vedľa železničnej a autobusovej stanice, nástupište som mal hneď pod nosom a preto som si kúpil lístok na autobus v obchode Lawson (skvelá vec, ak sa nechcete handrkovať v autobuse s hotovosťou a mincami), vstupenku do ZOO som si zadovážil v neďalekom turistickom centre, keďže som vedel, ako to tu v Japonsku funguje v prípade čakania na vstupné. Spravil som dobre, ostatní po príchode do destinácie po 40 minútach jazdy znovu čakali, ja som s hrdosťou vošiel do vnútra.
Nezvyknem počas turistiky a cestovania kritizovať miesta, ktoré som navštívil, aj v tomto prípade ide skôr o sklamanie. Vždy sa snažím nájsť pozitíva v cestovaní a podobne, no toto miesto jednoducho nesplnilo moje očakávania. Áno, bola to veľká ZOO s mierne zastaralými budovami a vybavením, v ktorej sa striedal zaujímavý dizajn so značne divným. Ako príklad uvediem obrovskú klietku pre severské sovy, do ktorej bola vstavaná akási betónová vyhliadková budova s oknami, ktorých výhľad smeroval do úplných nezmyslov – do kriakov, kamsi do kmeňov stromov a podobne. Vôbec som netušil, načo vlastne slúžili.
Počet zvierat a hlavne ich druhy boli obmedzené – od plazov až po viac exotické zvery (áno, viem, že Hokkaido je chladným ostrovom, no aj na Slovensku máme predsa viacero ZOO, v ktorých nechýbajú ani zvieratá z tropických krajín), chýbali mi veľké mačky. Na druhej strane ma príjemne prekvapil dizajn ohrád pre opice, ktoré boli asi najzaujímavejšie.
Aby som to uzavrel – v tomto prípade som vôbec nebral túto návštevu ako stratu času, nemal som predsa nič iné na pláne. No očakával som asi viac, vzhľadom na to, ako bola táto ZOO hodnotená na Internete. Nebral som pritom do úvahy priveľa ľudí a rodiny s deťmi – tie tam totiž patria viac ako ja, je dobré, že sa naučia niečo nové o zvieratách. Možno som to príliš porovnával so ZOO, ktoré poznám z Európy. Možno tam máme lepšie podmienky, na to nie som odborník. No toto miesto bolo odporúčané takmer všetkými online sprievodcami, vrátane Japan Guide, ktorú navštevujem často.
Nie všetko počas dovolenky musí byť dokonalé, no aspoň som si nepremrhal jeden z jej dní vysedávaním v hoteli. Neskôr som si užil večerný festival v Asahikawe a aj niekoľko pív, bez fotiek.