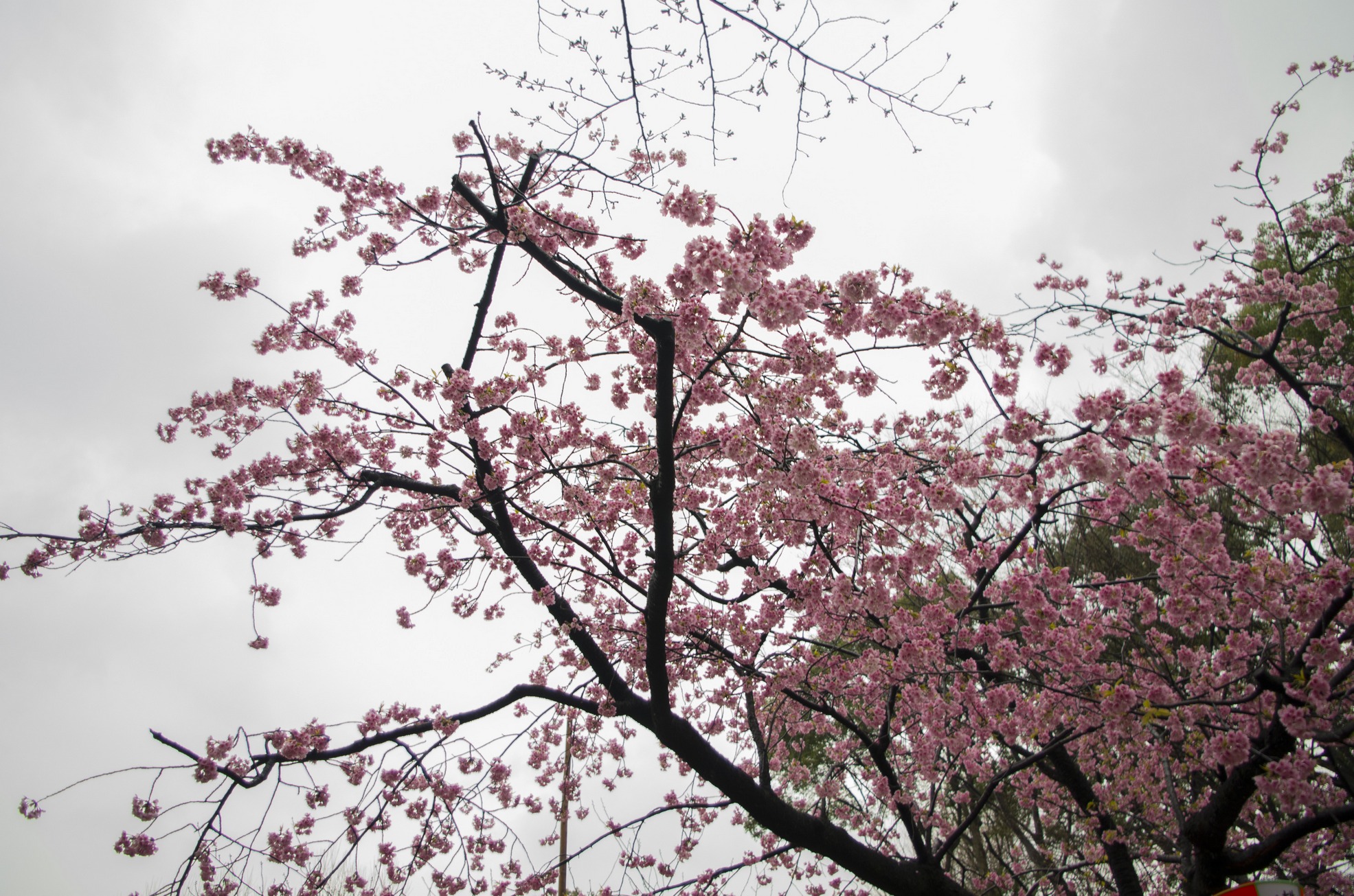 EN: It looks like the improvement of my health condition was just temporary, so I was forced to stay at home for the whole day. The weather went down hill, so I guess that made me a bit happier. But in the evening I ended up going out again, which I don't regret at all, as we met some locals and spent the whole night with them. It wasn't cheap, though. Our street looked like this:
SK: Keďže ma po cestovaní už tradične ničila nejaká pliaga, bol som nútený v siedmy deň zostať doma. Počasie sa ale našťastie zopsulo, takže mi to nebolo až tak ľúto. A hoci sa stále necítim práve zdravo (a mám pocit, že to zlepšenie bolo iba dočasné, niečo na mňa opäť lezie), aj napriek tomu som sa nechal prehovoriť ísť 2 dni za sebou socializovať do Shinjuku. Neľutujem, pretože sme vymietli tri bary a stretli sa s domácimi, s ktorými sme sa bavili celý večer, no pocítili to aj naše peňaženky. Ešte niekoľko hodín predtým som spravil aspoň jednu fotku našej ulice, vyzerá to tu takto: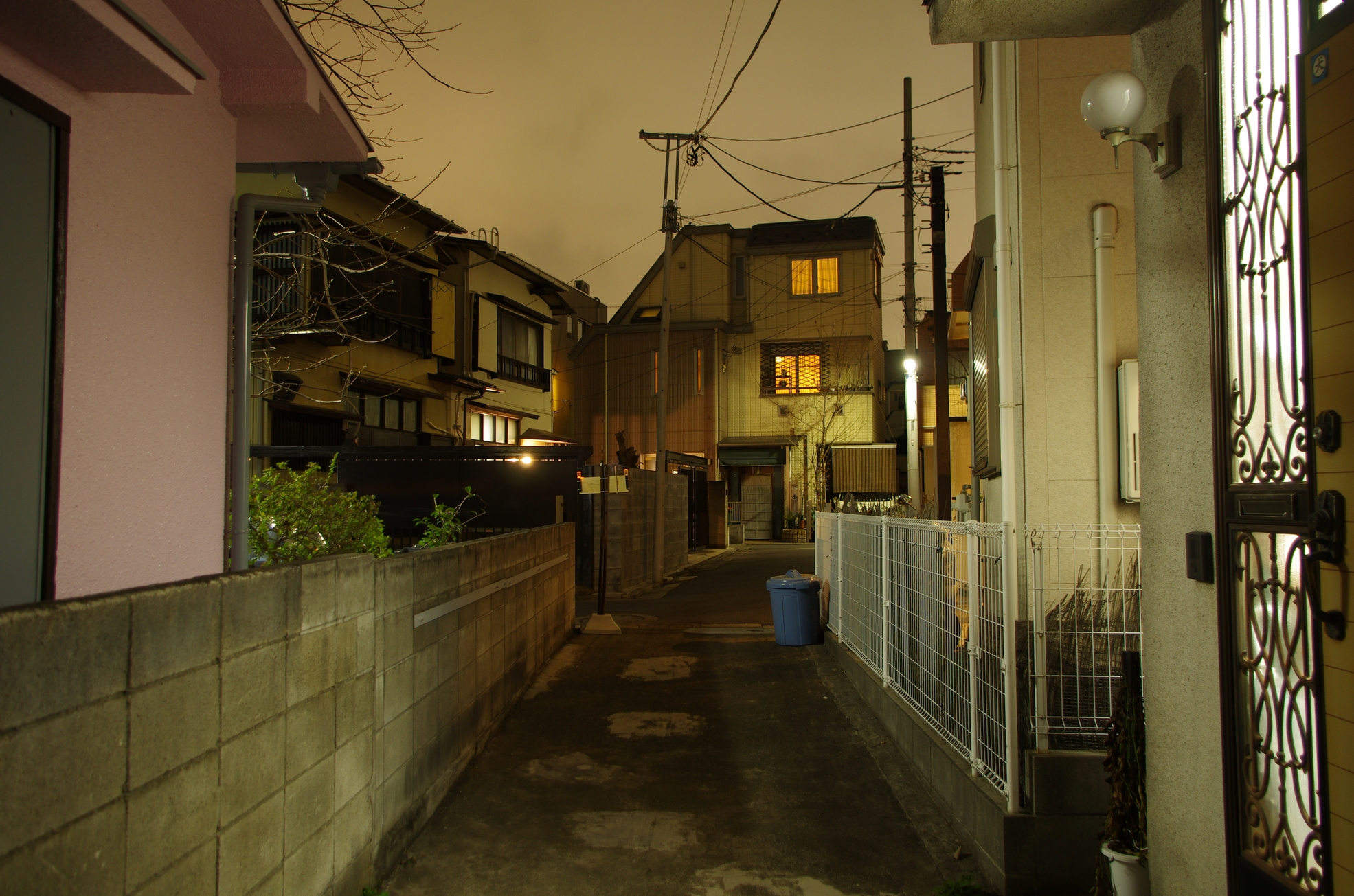 EN: It's a quiet residential area in Koyamadai, which is apparently one of the safest in Tokyo. And Tokyo is pretty safe itself, just Google it. Later on I experienced one of the things which I believe cannot happen in my home country – one of the houses close to ours was about to be renovated due to the strict building standards in Japan, therefore the owner came to our house, apologized and offered us a gift for any inconvenience his renovation will cause. A beautiful insight into the society in which everyone respect everyone else.
I decided to visit Ueno on the same day, even though the weather was bad. There are quite a few attractions over there, the National museum, a ZOO, some other museums, a park and so on. The park was not exceptional and it was full of foreign tourists, who were taking pictures of the first sakura trees in bloom. The preparations for hanami were on their way, I could see it everywhere. I took some pics and I decided to hide inside of the National museum (entry fee 600 yen). I could not take too many pictures inside as you are not supposed to take pics of almost all of the most important artifacts, except you can't use flash and tripods, with the dim lights over there it was almost impossible to take a proper pic anyway. It was worth the visit though. After 5 hours of "being a tourist" I went back home, as the route from Ueno back to Musashi-Koyama was rather lengthy and Yamanote line was packed up to the top. More pictures follow.
SK: Je tu úplné ticho a je to tradične japonská rezidenčná oblasť, podľa všetkého, čo som sa dozvedel od lokálnych, tak jedna z najbezpečnejších v Tokiu (a to Japonsko je bezpečné samo o sebe viac ako dosť, viď napríklad tu). Príjemné aj menej príjemné prekvapenie ma čakalo dnes, keď som sa vrátil z Uena (o tom neskôr), pretože o dva domy ďalej začali robotníci stavať lešenie, pretože ho idú renovovať. Neskôr nám na dvere zazvonil vlastník a dal nám ako "odškodné" za nadmerný hluk (a nebolo to nejaké extra hrozné) darčekovú tašku so sladkosťami a aj jeho vizitku, keby niečo. Na Slovensku by vás s najvyššou pravdepodobnosťou poslali kade ľahšie.
Ako som už v krátkosti spomenul, dnes som sa vydal do časti Ueno, kde je viacero atrakcií nie len pre turistov, ale aj domácich. Národné múzeum, ZOO, ďalšie múzeá, park, jazero a podobne. Keďže počasie bolo zlé (čo vidno aj na fotkách), park som obehol iba zbežne, pretože fúkal bočný vietor a dáždnik mi veľmi nepomohol, čiastočne som teda aj tak zmokol. Niektorí ľudia sa už sústredili na hanami, hoci rozkvitnuté sú iba niekoľké sakury, prípravy na festival sú už ale v plnom prúde. Niečo som cvakol a zdrhal som do múzea, vstupné je iba 600 yenov (4,27 eur, zasa menej, ako napríklad do Spišského hradu), takže tam nebolo nad čím premýšľať. Fotiek z múzea je málo, pretože bolo zakázané fotiť skoro všetky exponáty, okrem toho bolo všade prítmie, blesky a trojnožky sú v múzeu zakázané, takže s mojím biednym objektívom som si veľa nepomohol. V každom prípade to stálo za to, hlavne vzhľadom na nízke vstupné. Po asi piatich hodinách vonku som to zabalil a vrátil sa späť domov, pretože cesta z Musashi-Koyama do Uena je dosť zdĺhavá a hlavne som si vybral zlý čas, takže okružná linka Yamanote line bola napchatá až po plafón a po prvýkrát som zažil to slávne tlačenie ľudí do vlakov 🙂 Zvyšok fotiek nižšie.