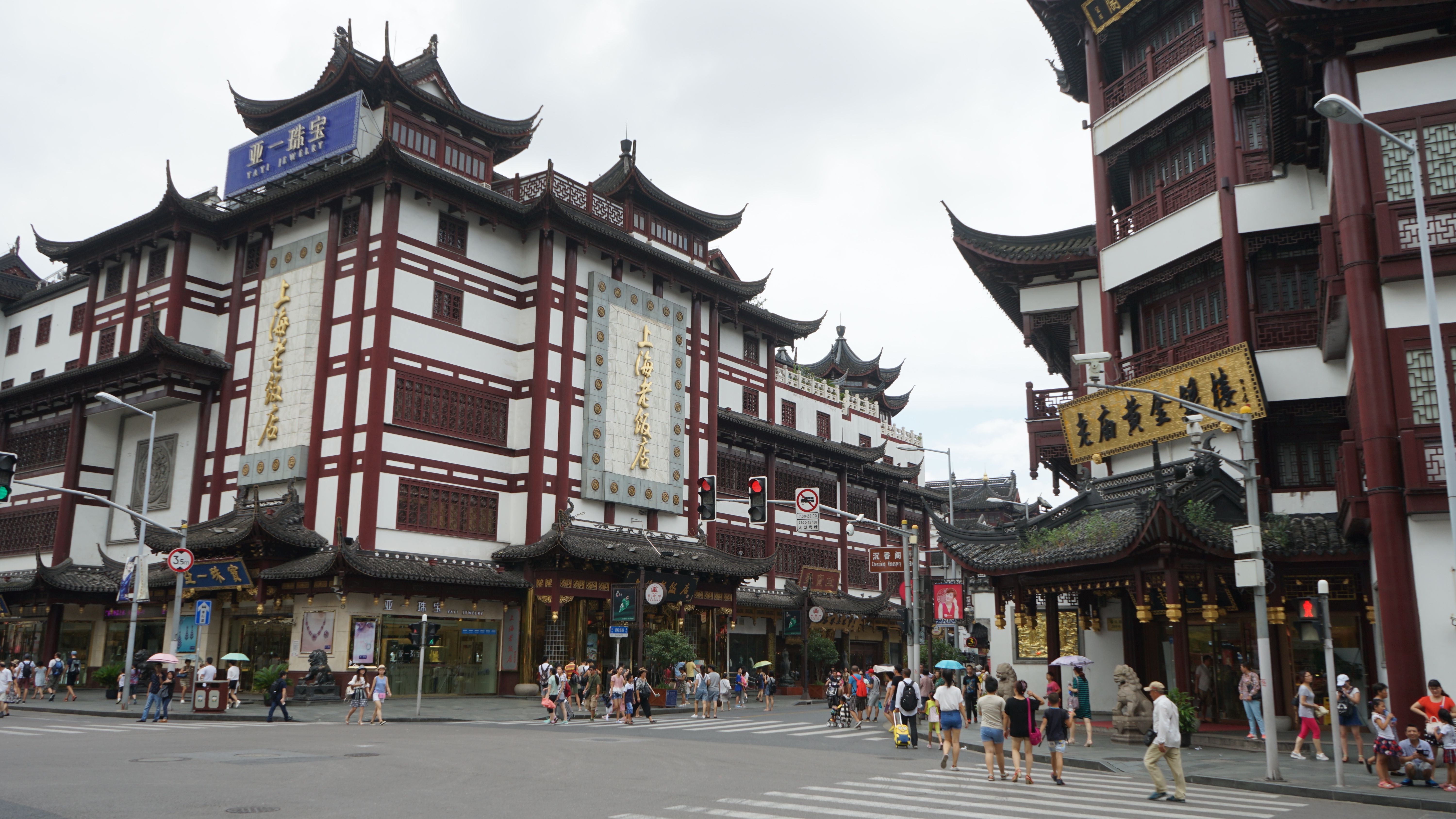 EN: Since the heat is literally unbearable over here in Shanghai, I decided to make it short today. Therefore I visited the Yu Garden, which is a must-see sight for every tourist in this city, plus it is very close to my hotel. The historic shopping district on the way to the garden is pretty impressive as well, but my experience was not as rewarding, since anywhere I stopped to take a picture, I was bothered by folks trying to sell me cheap (and fake, of course) wannabe luxurious watches. I am a big fan of watches as they are, but I rather prefer original Swiss-made stuff, not some cheap ripoffs, which will stop working after having them out on one rainy day.
But the garden was worth it. It was really interesting – totally different experience from all the Japanese landscape gardens (and believe me – I visited plenty of those), since it had walls and various structures inside. It definitely is a must-see place, the only downside were all the crowds, but this is Shanghai, so I guess that could not be helped. Tomorrow is my last full day in this city, therefore I will try to visit all the remaining places on my itinerary.
SK: Keďže teplo je v tomto meste naozaj neúnosné, dnes som si iba odskočil (na dobré 4 hodiny) do neďalekej záhrady Yu Garden, ktorá bola podľa všetkých turistických sprievodcov jedna z kľúčových atrakcií pre každého. Mali pravdu. Keďže záhrada je blízko môjho hotela, vybral som sa k nej aj napriek teplote +37 v tieni a vysokej vlhkosti, ktorá je pre každého, kto na toto všetko nie je zvyknutý, veľkým utrpením.
Ešte pred vstupom do samotnej záhrady prechádzajú turisti historickými ulicami s tradičnými domami, ktoré boli zjavne obnovené do ich dnešnej podoby. Celá táto oblasť bola zaujímavá, dojem z nej ale kazili neuveriteľne otravní "obchodníci" s hodinkami, ktoré samozrejme neboli pravé. Ja osobne som fanúšikom hodiniek, uprednostňujem ale švajčiarske originály namiesto lacných kópií, ktoré neprežijú ani jeden daždivý deň na zápästí. Niektorí z obchodníkov neváhali skočiť niekoľko krát do cesty, keď som ich ignoroval, čo ma značne znechutilo.
V každom prípade – samotná záhrada bola unikátna. Doteraz som navštívil naozaj mnoho tradičných záhrad, v Japonsku, na Taiwane, v Kórei, no toto bolo niečo iné. Záhrada bola totiž spojená s rôznymi budovami, pripomínalo mi to dobre premyslené bludisko – jednoducho sa nedá porovnať s tými japonskými. Je to vidieť aj na fotkách. Nepríjemné boli opäť hromady turistov, no toto je Šanghaj a tomu sa asi vyhnúť nedá. Zajtra ma čaká posledný celý deň v tomto meste, takže sa budem snažiť navštíviť zostávajúce miesta v mojich plánoch.