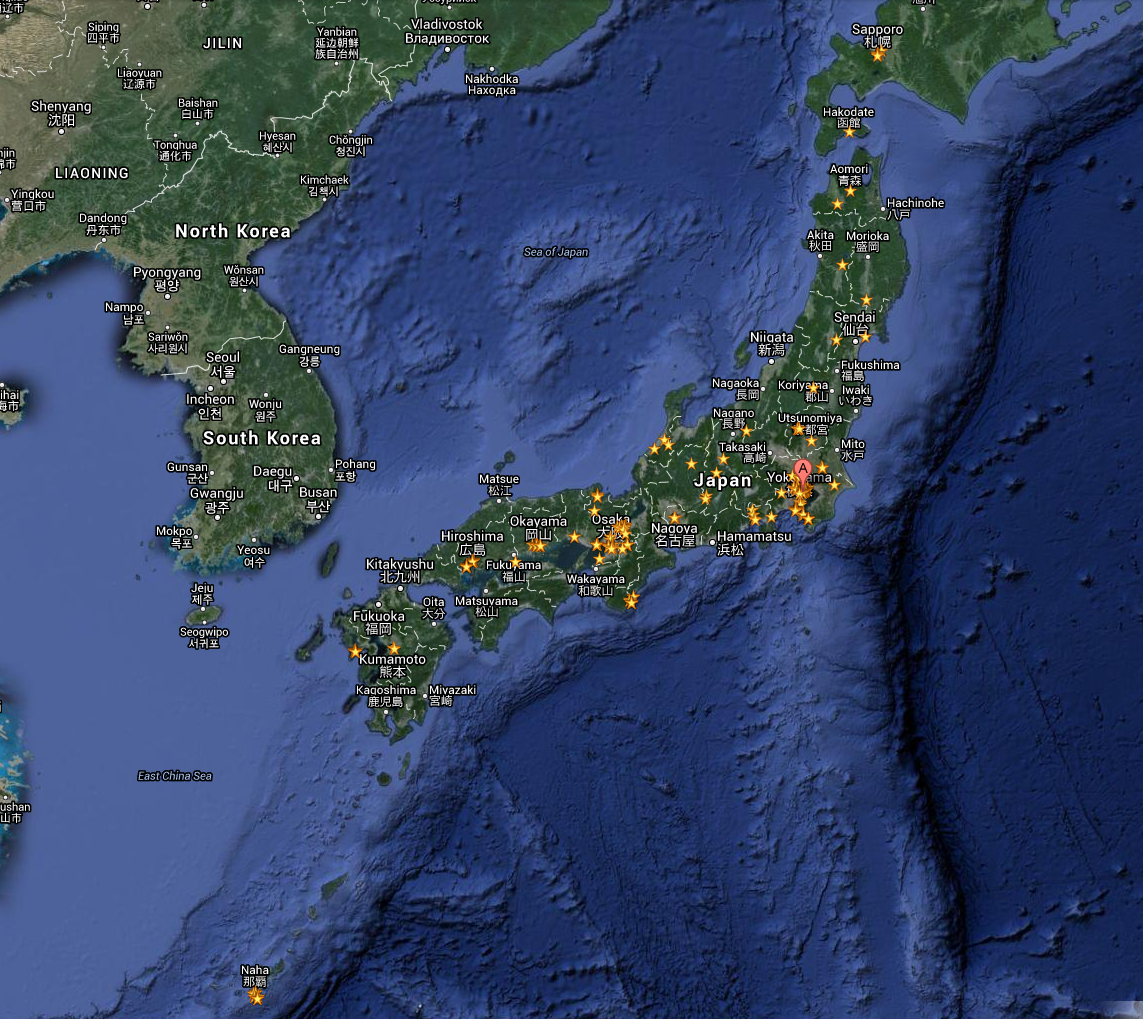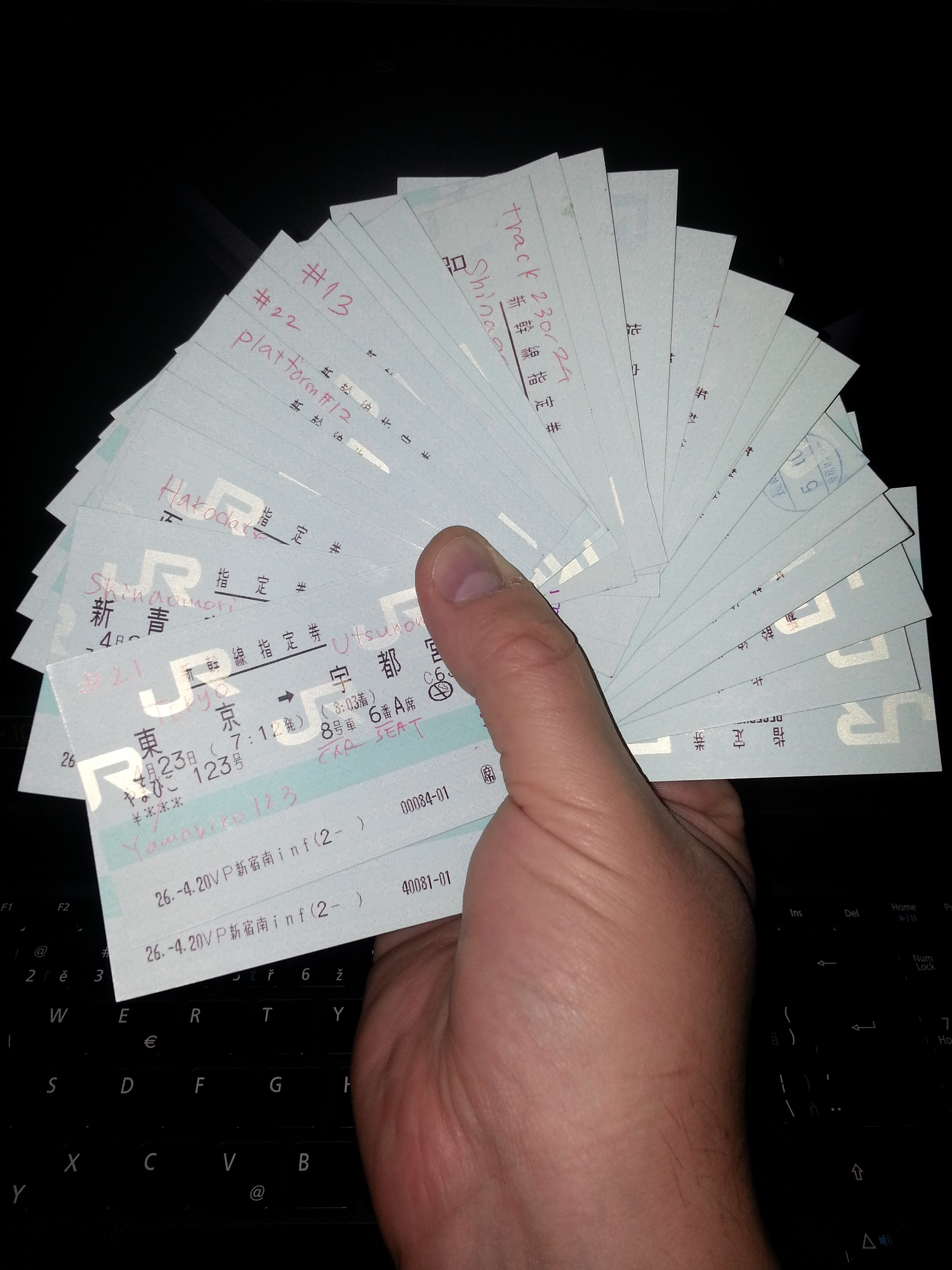 EN: After all the time I decided to have a look at my Shinkansen and JR tickets, I collected all of them just to know the dates related to the places I visited. The reason is simple – once you get the Japan Rail Pass, you will also receive a pre-paid envelope with a survey, which kindly asks you to fill in the list of places you visited in chronological order, with the dates, if possible. Keeping the tickets is therefore the easiest and the most effective way to keep track with your previous journeys. So I had the tickets. I played with Google Maps a little and I figured out the approximate distance for each of my trips (including the ones I did with my 4-day Kansai Wide Pass from Osaka). The rough list is here:
(R means return trip)
Tokyo – Yokohama R 50 km (2x)
Tokyo – Kamakura R 90 km
Tokyo – Kanaya R 140 km
Tokyo – Nikko R 268 km
Tokyo – Sapporo R 2110 km
Tokyo – Matsushima R 740 km
Tokyo – Shiraito Falls R 280 km
Tokyo – Matsumoto R 440 km
Matsumoto – KisoFukushima R 110 km
Tokyo – Osaka R 1000 km
Osaka – Nagoya R 320 km
Osaka – Amanohashidate R 260 km
Osaka – Hiroshima R 660 km
Hiroshima – Miyajima R 45 km
Hiroshima – Nagasaki 420 km
Nagasaki – Kumamoto 200 km
Kumamoto – Osaka 710 km
Osaka – Kanazawa R 560 km
Osaka – Omyia R 370 km
Osaka – Himeji R 180 km
Osaka – Shingu R 530 km
Osaka – Nara R 70 km
Osaka – Kyoto R 120 km
Osaka – Kobe R 70 km
Osaka – Naha R 3000 km
Tokyo – Tsukuba R 110 km
TOTAL : 12 853 km
Well, that's it. During my 3 months in Japan I travelled almost 13 000 kilometres to see all the sights and places I wanted to see. If you click on the above image, you can spot rather plenty of little yellow stars – they indicate all the places (unless I forgot some of them) I visited. The one on the north is Sapporo and Hokkaido, the one on the bottom/south is Okinawa, of course. Considering most of these journeys (except Okinawa and 4 days of travel plans from Osaka) were fully covered with Japan Rail Pass, you can see by yourself that buying this thing before your visit of Japan is really handy. Just one example – return ticket from Tokyo to Sapporo was worth of 350 eur (one way ticket from Tokyo->Shin-Aomori->Hakodate->Sapporo costs more than 24 000 yen, therefore roughly 175 eur). JR Pass valid for 21 days costs 400 eur including delivery. Do your maths, but believe me – it's totally worth it.
Mind you – I am not counting small local trips around Tokyo and Osaka – those would be probably hundreds more of kilometres – e.g. I used to live close to the Musashi-Koyama station in the Meguro/Shinagawa area, the route from this station to Sumida – the home of Tokyo Skytree is approximately 16 kilometres long. So the return trip would be around 32 kilometres. But there is no way I could track all my trips like these, as I was using my Suica IC card and that would be a total pain to play with all those data. So I decided to count only long-haul travel.
SK: Po dlhom čase som sa rozhodol pozrieť si svoje lístky na vlak, ktoré som si zakúpil počas mojej dovolenky v Japonsku. Odkladal som ich z jednoduchého dôvodu – spoločne s lístkom Japan Rail Pass obdržíte aj predplatenú obálku, v ktorej sa nachádza prieskum JR o tom, ktoré miesta ste kedy navštívili a kedy ste samotný Pass využili, pričom je vyžadované chronologické poradie. Takže ponechať si lístky je najlepším spôsobom, ako to potom doma po návrate zosumarizovať. Pohral som sa teda trochu s Google Maps a dal som si vypočítať približné vzdialenosti výletov, ktoré som počas troch mesiacov podnikol a vyšiel mi z toho zoznam (započítal som doň aj 4 dni výletov, ktoré som podnikol s iným lístkom Kansai Wide Pass), ktorý je uvedený vyššie.
Výsledok je taký, že za tri mesiace v Japonsku som precestoval zhruba 13 000 kilometrov. Po kliknutí na titulný obrázok uvidíte mapu s hviezdičkami, ktoré označujú miesta v krajine, ktoré som navštívil. Na severe je označené Sapporo a miesta na ostrove Hokkaido, úplne dole je to zasa Okinawa. Vzhľadom na to, že drvivá väčšina výletov (okrem spiatočného letu na Okinawu a štyroch dní s iným Passom) bola pokrytá JR Passom, je zjavné, že sa ho oplatí kúpiť. Ako príklad uvediem dlhočiznú cestu z Tokia do Sappora, ktorej spiatočný lístok stál dohromady 350 eur (jednosmerný z Tokio->Shin-Aomori->Hakodate->Sapporo stojí viac ako 24 000 yenov, teda asi 175 eur). JR Pass platný na 21 dní stojí 400 eur aj s dopravou, sami vidíte, že sa to naozaj oplatí.
Aby som podotkol – v týchto výpočtoch nie sú zahrnuté malé lokálne výlety v Tokiu a Osake – verím, že to výsledok by bol o niekoľko sto kilometrov väčší. Napríklad – v Tokiu som býval blízko stanice Musashi-Koyama, pričom cesta do Sumidy, kde stojí Tokyo Skytree, má dĺžku asi 16 kilometrov, spiatočný výlet by meral viac ako 32 kilometrov. Nie je ale možné zhrnúť tieto menšie výjazdy, tých bolo po Tokiu veľmi veľa a používal som iba svoju Suica kartu, takže hranie sa s týmito dátami by bolo príliš komplikované. Preto som sa rozhodol počítať iba dlhšie výlety.