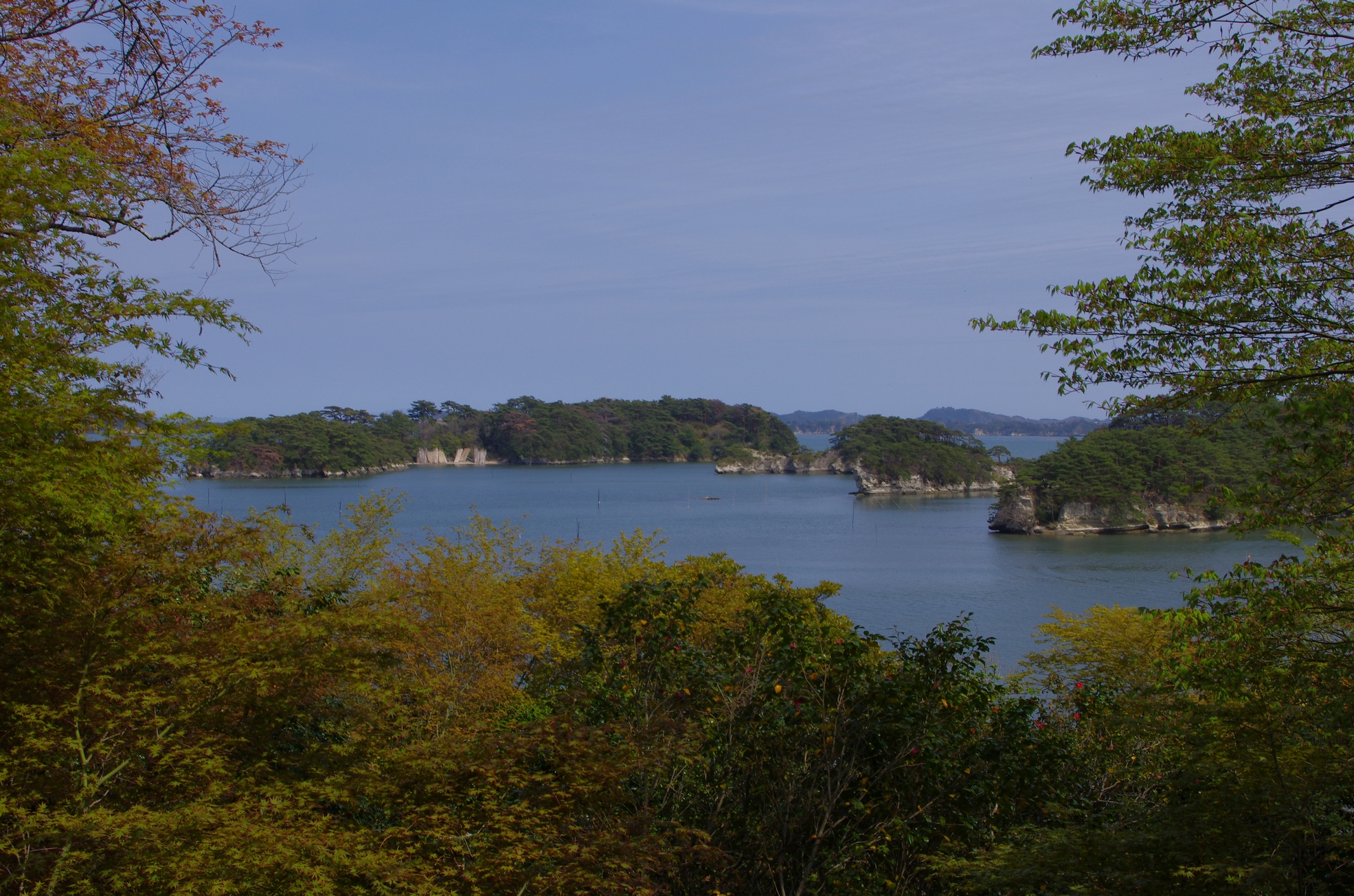 EN: Matsushima definitely belongs to the category of must-see spots for every visitor of Japan (yes, I know I am repeating myself), the reason is simple – it's one of the famous Three Views of Japan, three spots which represent the country. It's not a surprise that Matsushima is one of them, its bay filled with plenty of little pine tree islands is really beautiful and picturesque. Add some of the old shrines and the picture is complete.
SK: Matsushima patrí do kategórie must-see pre každého turistu, ktorý Japonsko navštívi (áno, už sa s tou frázou opakujem, ale je to tak). Dôvod je úplne jednoduchý – patrí medzi slávne Three Views of Japan, ktoré boli počas histórie Japonska vyhlásené za tri ikonické miesta, ktoré charakterizujú krajinu. Naozaj sa nie je čomu čudovať, prečo bola medzi ne zaradená aj Matsushima, teda jej záliv, ktorý je známy svojimi malými ostrovčekmi pokrytými borovicami, pričom na niektorých z nich sú chrámy a opäť typické šintoistické kaplnky.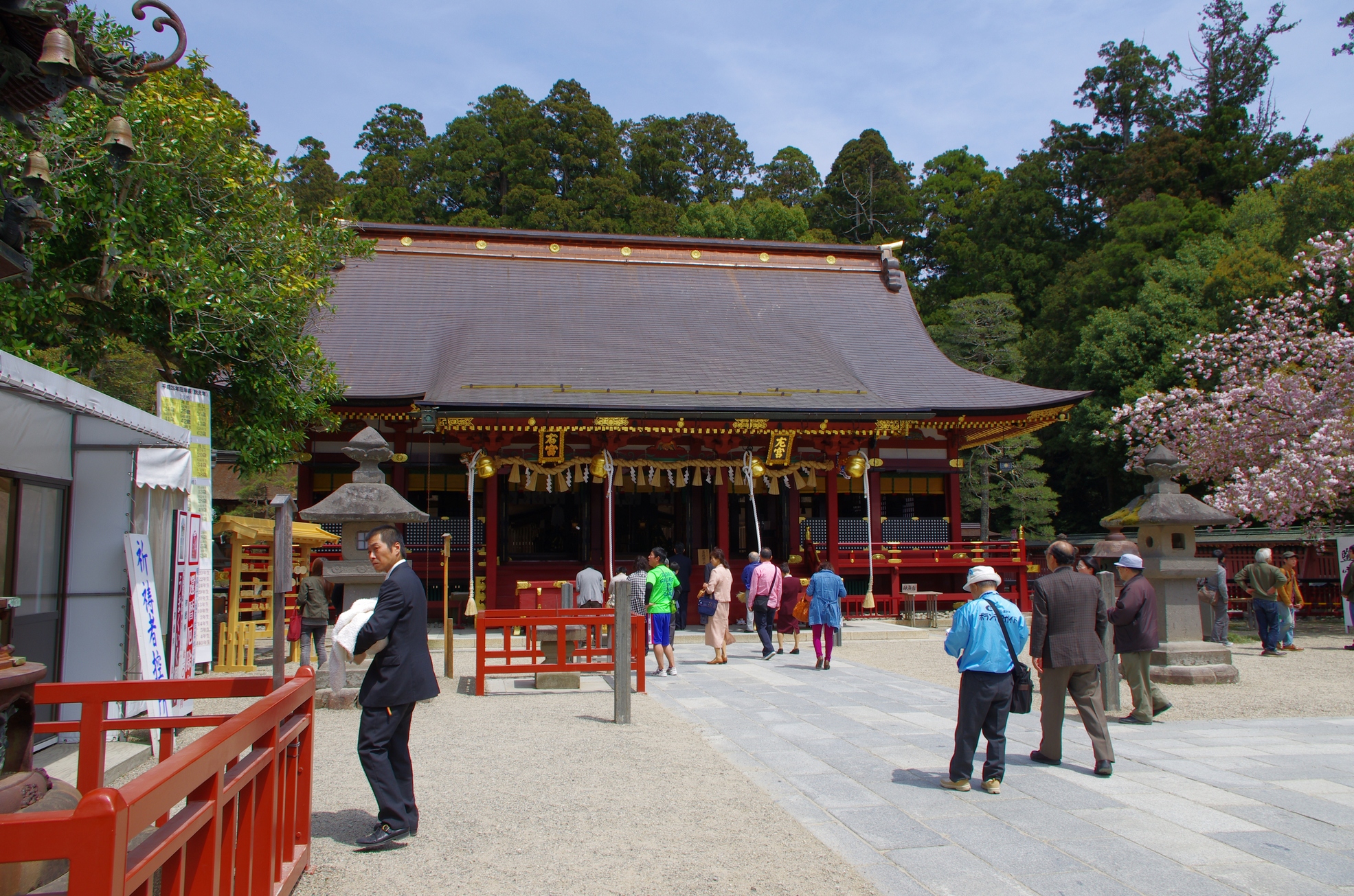 EN: The route to Matsushima from Tokyo is pretty simple – just board the Hayabusa Shinkansen and travel to Sendai. Switch trains to JR Senseki Line towards the stop Hon-Shiogama. JR Pass holders travel for free, it takes roughly 30 minutes to get to Shiogama. Beware, as rapid trains do not stop there, only local ones. Once you are out there, don't miss the Shiogama Jinja, one of the most important temples in Japan, from there take a walk to the port. Buy yourself a ticket for one of the frequent tourist ships, which sail across the whole bay and give the visitors option to see the pine tree islands from the water. The cruise takes about one hour, the ship will take you to Matsushima. The ticket costs 2500 yen for the first class, it's better to pay a little bit more if you want to take pictures and have a better view from the roof of the ship. With cheaper tickets you have to remain on the first floor behind the glass windows, which is not very convenient. Once you reach Matsushima, do not forget to visit Fukuura Island, which is probably the most beautiful of all, there are several walking routes once you cross the red bridge (the toll is 200 yen) and the views of the bay from the island is really worth it. Afterwards, on the way to train station, stop by Zuigan-Ji temple.
SK: Do Matsushimy sa turista dostane veľmi jednoducho – Shinkansen Hayabusa (opäť ten najrýchlejší, skvelá vec) ho vyvezie smerom na sever do Sendai, odtiaľ je potrebné presadnúť na JR Senseki Line (držitelia JR Pass to majú opäť zadarmo) a vystúpiť na stanici Hon-Shiogama. Cesta trvá asi 30 minút, ak nasadnete na ten správny vlak (Local, Rapid tam nestojí, chyba lávky a dôvod čakania), zo stanice je potrebné navštíviť Shiogama Jinja, teda chrám, ktorý patrí medzi najdôležitejšie v japonsku a je zaradený aj do ICP. Odtiaľ to nie je ďaleko do prístavu, z ktorého odchádzajú vyhliadkové lode smerujúce do Matsushimy. Tie vás prevezú pomedzi spomínané ostrovčeky, ak si priplatíte za prvú triedu, je to asi 2500 yenov a máte možnosť prejsť na druhé poschodie a aj na vyhliadkovú terasu lode, sprevádzanú čajkami. Tí s najlacnejšími lístkami zostávajú uzavretí v dolnej časti lode s veľkými oknami, to mne osobne nevyhovovalo. Pravdou ale je, že na poschodí fúkal veľmi silný vietor (tak to už na mori býva, zažil som to na Madeire, na Malte a aj tu v Japonsku, keď som sa presúval na juhu), takže niektorí ľudia preferovali teplo vnútri. Celá vyhliadková cesta trvá asi hodinu, vystúpite v Matsushime a tam je povinnosť nasmerovať si to na Fukuura Island, ktorý je priam ikonickým príkladom celej oblasti. Výhľady z ostrova sú skvelé, za prechod cez červený most sa platí 200 yenov. Po prechádzke som smeroval na stanicu, zabehol som do chrámu Zuigan-Ji a potom domov, pretože práca na mňa čakala. Matsushima bola krásna, naozaj si zaslúži byť v top 3.