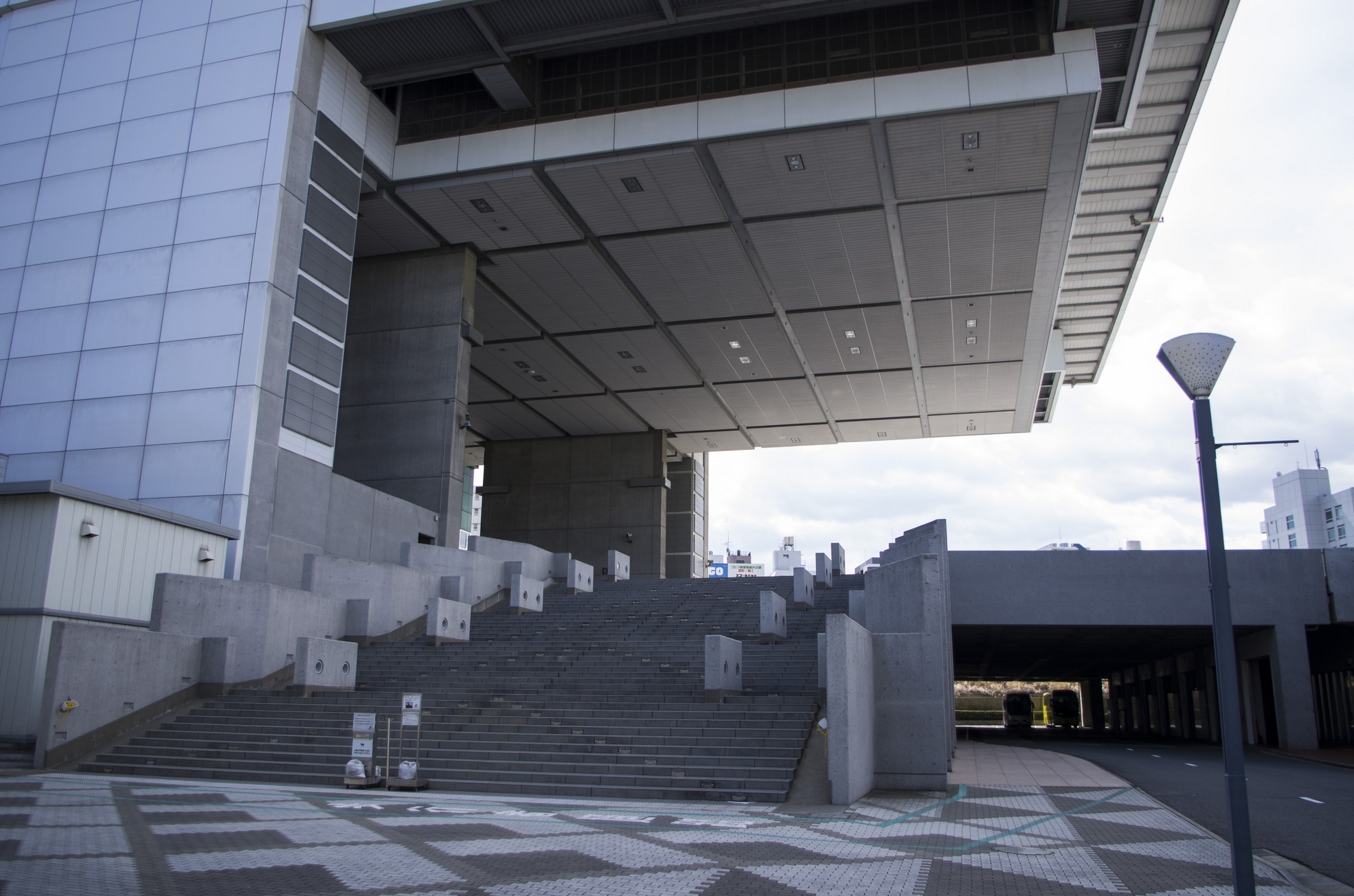 EN: My second day in Tokyo was influenced by winds, which were unexpectedly strong. Since the weather prediction wasn't positive at all, I didn't have any outdoor plans, as I didn't want to get soaked on my second day in Japan and consequently to catch a cold or another plague. Therefore I visited Tokyo Edo Museum (Edo is the former name of Tokyo). I managed to screw up my route on my way there, as I didn't have my Japanese SIM Data card in that time and my use of GPS and Google Maps was really limited. But eventually I go there.
The main building of the museum is massive, one of the entries is on the picture above, so you can easily imagine its size. The entry to the museum was 600 yen (approx. 4.30 eur), so not expensive at all, considering the prices in Slovakia (Spis Castle – entry fee is 5 eur per person, which is totally out of proportion). The museum is largely interactive, the interior is really large and it depicts Tokyo in its various past periods. Most of the stuff was written in Japanese, but there were short annotations in English as well. Really a nice museum to visit on a rainy day.
SK: Druhý deň v Tokiu so sebou priniesol veterné počasie, fúkalo s takou intenzitou, že poniektorí ľudia menšieho vzrastu mali problém s udržaním stability. Vzhľadom na nepriaznivú predpoveď počasia som si naplánoval návštevu múzea Edo-Tokyo (Edo je bývalý názov Tokia), ktorú som si hneď z úvodu značne skomplikoval. Nejakým spôsobom som si totiž vybral úplne zlé trasy a keďže v tomto čase som nemal k dispozícii mobilný Internet a wifi na staniciach nejestvuje, dosť som sa potrápil, kým som našiel alternatívnu cestu k múzeu, ktoré je vzhľadom na Tokio dosť ďaleko.
Napokon som ho ale našiel. Jeden z jeho vstupov je hore na fotke, budova samotného múzea bola tak impozantná, že sa do záberu bez fisheye nezmestila a nikde naokolo nebolo dostatok miesta, odkiaľ by sa dala celá vyfotiť. Vstupné do múzea bolo iba 600 yenov (asi 4.30 eur), menej ako napríklad na Slovensku na Spišskom Hrade, kde za zopár zbraní bez popisu v sklenenej vitríne chcú 5 eur. Za tú cenu dostane návštevník obrovské priestory plné interaktivity, ktoré vedia upútať (hoci mnoho z nich iba v japončine), popisy sú všade, po japonsky a v drvivej väčšine prípadov aj v angličtine. Celkom slušná sonda do minulosti Tokia.
EN: After the museum visit I had to go back home to have some food and I had a plan to visit Institute for Nature Study, which was unfortunately closed due to some refurbishments. So I had a nice, long walk from Koyamadai to Meguro, took some pictures of the surrounding streets and the last photo was taken in a large shopping street situated just next to the Musashi-Koyama station.
SK: Po návšteve múzea ma hlad zahnal domov, kde som sa rozhodol naplánovať prechádzku sem. Bol to žiaľ omyl, keďže všetky priestory boli kvôli rekonštrukcii uzavreté, vrátane celého parku. Takže som spravil niekoľko fotiek z ulice a naskočil som do metra smerom do Musashi-Koyama.
EN: The shopping street I mentioned was full of little shops, which sell pretty much anything you dream of. Everything from fresh fruit and vegetables, electronics and clothes – funnily enough, most of the stuff was even cheaper than in Slovakia. Which is strange, considering the average monthly salary in Japan is 1500 eur per month while the monthly wage of average Slovakian is around 800 eur. The food in local restaurants (Udon, Ramen and Sushi) could be purchased for 400-600 yen, which is great, considering the quality of the food itself.
SK: Neďaleko východu zo stanice je obrovská nákupná zóna, ktorej dĺžka nemá obdobu. Obrovské množstvo malých obchodov (žiadne supermarkety), reštaurácie, butiky s oblečením, elektronikou, čerstvým ovocím, zeleninou, obuvou. A či človek verí alebo nie, všetko lacnejšie ako na Slovensku. Značková obuv, tenisky za 20-30 eur (podotýkam, že toto nie je Čína), second-hand laptopy od stovky. Jedlo v lokálnych reštauráciách (Udon, Ramen, Sushi) v cenách okolo 400-600 yenov (2.80 – 4.30), pričom ide o relatívne zdravú kuchyňu. Kúpil som si chutný chow mein (áno, viem, že toto Čína je) za 1.90 eur v prepočte. To je všetko. Ostatné fotky nižšie.