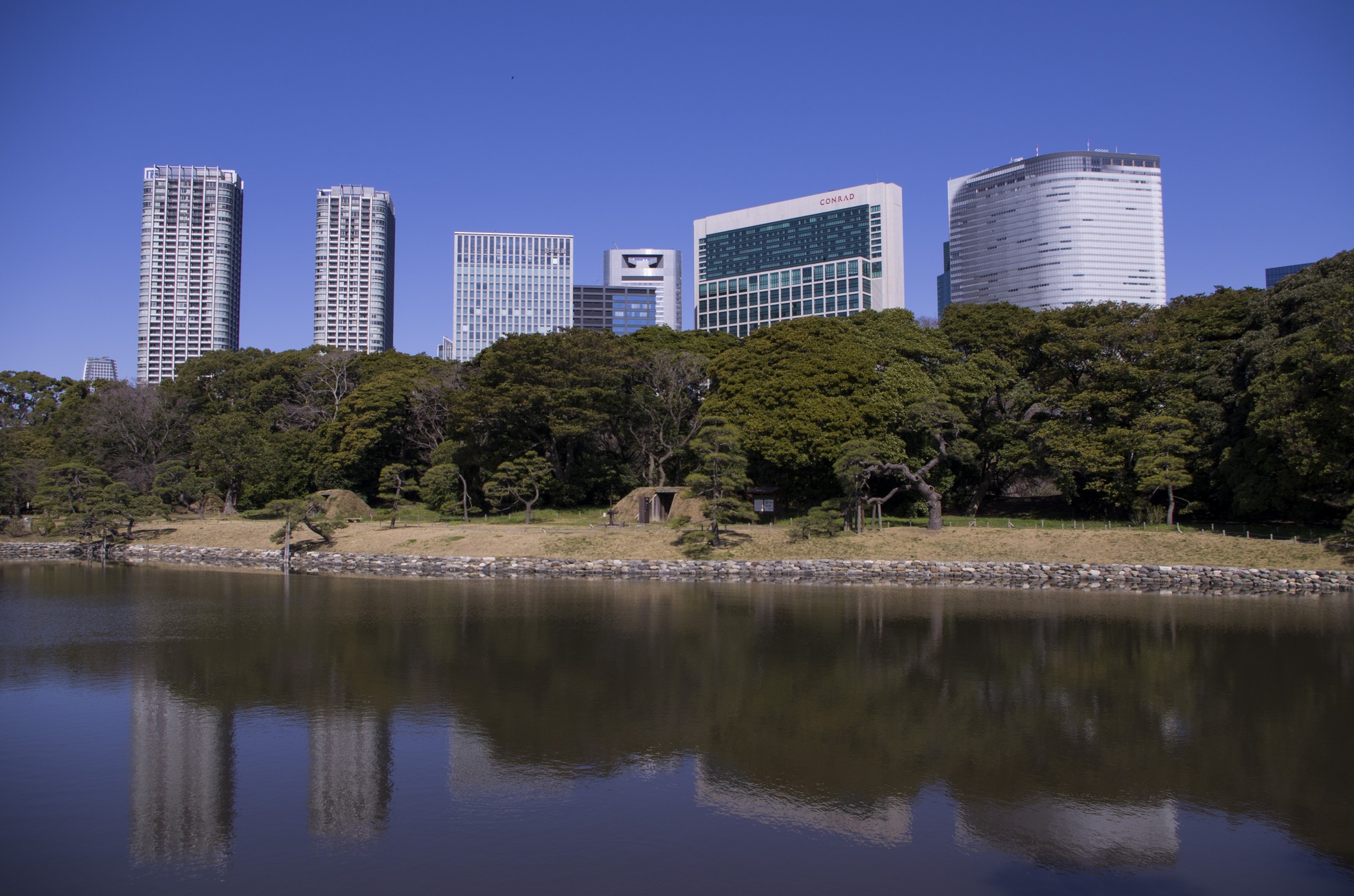 EN: Some of the weather predictions did not really work even in Tokyo, the weather on my third day in Japan was supposed to be mostly cloudy. As the pics prove, it wasn't really true, although the clouds eventually arrived later on. I changed my plans a little, instead of Odaiba and Miraikan I decided to have a walk in Hamarikyuteien gardens, which are famous for their panoramatic views of Tokyo skyscrappers mixed with the local nature park. It was really beautiful (it was my first Japanese garden visit anyway), I selected a good time to go there – just at 9AM, when the gardens usually open. In that time, the garden was almost empty even though it was Saturday. Since my plans were amended, I knew there was a Tokyo Tower nearby, so I went straight up there. I was lucky enough (that's what I was told later on), I didn't wait long and I visited both of its observatories. If you don't like heights, you should just wait downstairs…The view was nice and worth the short wait…
SK: Keďže predpovede počasia zjavne nefungujú ani v Tokiu (pôvodne malo byť polooblačno, s občasnou jasnou oblohou), tak moje plány navštíviť Miraikan som zmenil na návštevu záhradu Hamarikyuteien, ktorá je známa svojím kontrastom s lokálnymi mrakodrapmi. Stálo to za to, počasie prialo a hoci ešte jar nenastúpila v plnom prúde, bolo na čo pozerať. Našťastie som dorazil tesne pred deviatou, takže nebol žiaden náprask, hoci je sobota a neskôr, keď som záhrady opúšťal, bolo ľudí vo fronte čakajúcej na zakúpenie lístka oveľa viac.
Keďže som všetko nechal na náhodu tak som sa napokon rozhodol ísť do Tokyo Tower. Pod vežou je chrám, ktorý som obzrel iba narýchlo, keďže sa tam čosi konalo a ja som sa nechcel pliesť domácim pod nohy, nasledoval pochod k samotnej veži.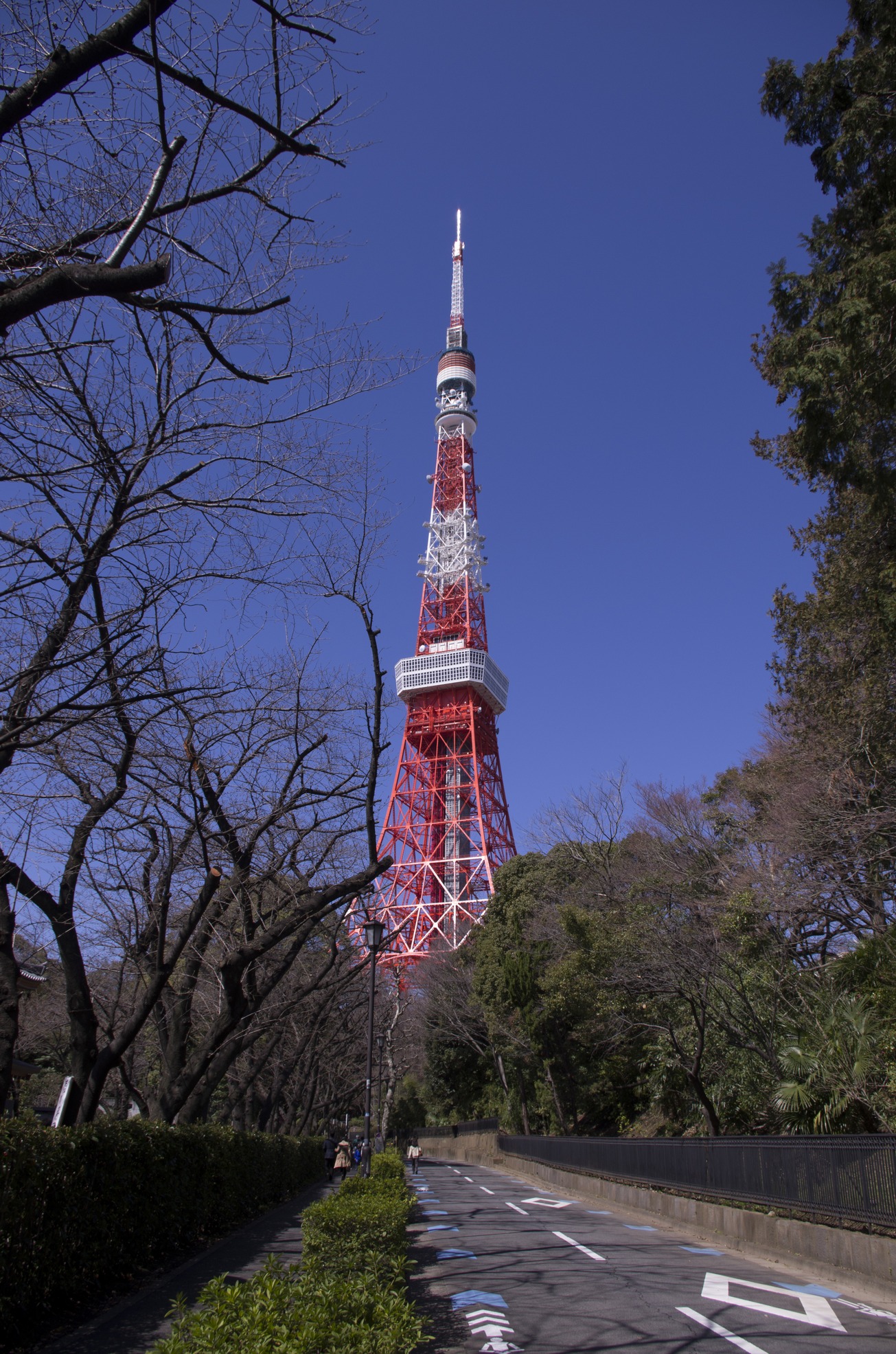 EN: In construction.
SK: Veža je rozdelená na dve turistické časti, Main Observatory (vstupné 820Y), ktorá je vo výške 125 metrov, pričom práve tam sa dá kúpiť lístok do Special Observatory (vstupné 600Y), ktorá je vo výške 250 metrov. Samozrejme, aj v tomto prípade ma neminuli fronty, na lístok do vyššie položenej rozhľadne som čakal asi 45 minút a to som ešte dobre pochodil. Okrem toho, že sa čakalo na lístok, po jeho zakúpení čakala krátka pešia cesta po schodoch k ďalšiemu výťahu, pred ktorým sa čakalo ďalších asi 20 minút. Napokon sme sa ale dočkali, samotný výťah je pre ľud, ktorí majú problémy s výškami, problémom, keďže má sklenené steny až po podlahu a vidíte skoro priamo pod vás…Výhľady stáli za to, vzhľadom na pekné počasie bolo vidno aj Fuji-san, hoci iba v diaľke. V porovnaní s mojou návštevou budovy The Shard v Londýne boli okná čisté a dalo sa cez ne fotiť. hoci aj tak to bolo obtiažne. Po 7 hodinách pešej cesty a návrate z veže som sa vybral domov, pretože na mňa opäť doľahol jetlag (zjavne to znášam dosť zle) a bol som unavený, ťahalo ma do spánku. Plán bol ale splnený, jedna atrakcia je zo zoznamu preč a v nedeľu ma čaká výstava Anime Japan 2014.