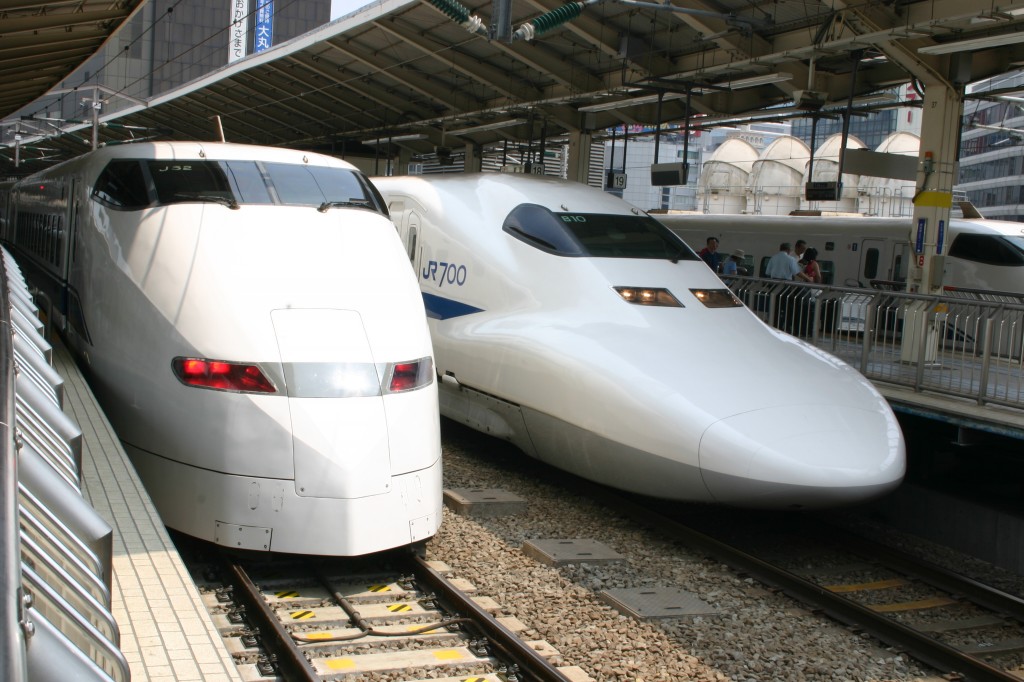 EN: Japan Rail Pass is one a must-have thing when traveling to (and around) Japan. It's a ticket issued by Japan Rail which entitles the owner (must be a foreign national with a 'temporary visitor' stamp in his passport) to unlimited use of all JR trains (and some buses and ferries) all around the country. You can buy a ticket with a 7-day, 14-day or 21-day validity, plus there is a 'Green Ticket' for all of those three options, with which you can use 'Green Cars' in trains – basically the first class. Personally I think this is not a good option, considering the value. You cannot use the ticket on Nozomi trains, but you can use it on Hayabusa, the fastest of all Shinkanen trains, which travels between Tokyo and Shin-Aomori – the northern gate to Hokkaido island.
I got myself a 21-day ticket, which I used a LOT and it saved me plenty of money, although I had to splash around 400 eur for that one. But it's still worth it, considering the fact that a one-way trip from Tokyo to Osaka costs around 14 000 yen, which is roughly 100 eur. If you live in Europe, you can use this website to purchase the ticket, I used it as well and the delivery (with FedEx) was rather quick.
SK: Niekoľko dní pred odchodom som sa konečne rozhodol kúpiť si Japan Rail Pass, ktorý uľahčuje zahraničným turistom cestovanie po Japonsku. 21-dňový lístok stojí 400 eur a hoci sa to zdá na lokálne pomery veľa, je to naopak skvelý spôsob, ako pri cestovaní ušetriť.
Samotný Pass je totiž platný po celom Japonsku vo vlakoch spoločnosti JR, teda Japan Rail, ktorá pokrýva celú krajinu. Okrem vlakov je do zoznamu zaradených aj niekoľko autobusov, ktoré táto spoločnosť prevádzkuje a aj zopár trajektov. 21 dní teda môže jeho vlastník cestovať kedykoľvek a kamkoľvek chce, pričom jediným obmedzením je nemožnosť použitia JR Passu na vlakoch typu Nozomi, ktoré sú najrýchlejšími vlakmi typu Shinkansen – nie, čo sa týka rýchlosti, ale z pohľadu počtu zastávok, majú ich totiž najmenej, ide teda o tamojšiu obdobu expresov. Iba pre orientáciu – jednosmerný lístok z Tokia do Nagana, ktoré je vzdialené asi 220 kilometrov, stojí v prepočte 56 eur. Spiatočný lísok by teda stál 112 eur, pričom ide iba o 100-minútovú cestu vlakom jedným smerom. Práve preto sa kúpa JR Passu naozaj oplatí, hlavne ak si vezmeme do úvahy fakt, že vďaka sieti Shinkansen sa dá za dve-tri hodiny prepraviť do naozaj veľkých vzdialeností.
Výhodou je, že lístok je už (od roku 2013) platný aj na najrýchlejšom Shinkansene Hayabusa, ktorý premáva z Tokia smerom na sever do Shin-Aomori, odkiaľ sa dá vyraziť na severný ostrov Hokkaido.
Pre prípad, že by mal niekto v budúcnosti záujem o JR Pass, ja osobne som si ho kúpil od tejto agentúry.