EN: Since I booked a flight with Turkish Airlines from Vienna to Tokyo Narita Airport, I had to travel to Austrian capital. Everything went smoothly on Schwechat Airport, I was also quite happy with the in-flight comfort and the meals. We had to stop in Istanbul and transfer to another plane, which was a bit of a pain, as the waiting premises in Turkish airport were too warm for my personal standards, plus the shops were not accepting Euros. Well, at least the didn't make it clear that they were – once you asked, they were actually happy to sell you a bottle of water in exchange for this currency. I never thought about taking Turkish Liras with me, so that may be my fault.
I was actually a little bit worried about Japanese customs and immigration control, as I had to face numerous questions in Vienna and in Istanbul in a sense 'are you really sure you can travel to Japan without visas?' and so on. Being from a little central European country is tough, that is a fact. Everything went fine on Narita, the immigration control check was actually pretty quick, they took my picture and my fingerprints (not a good news for all the conspiracy theorists), I answered some questions about my business in Japan and about my place of stay and that was it.
SK: Vo Viedni prebiehalo všetko OK, až na nulovú angličtinu tety na informáciách (Terminál 1). To celkom prekvapilo, hoci som sa jej spýtal niečo po anglicky, odpovedala zásadne po nemecky, napokon som sa prispôsobil (vrámci mojich možností).
Turkish Airlines svoje členstvo v Star Alliance potvrdzovali počas letu každých pár minút, hoci vedeli, kedy si majú dať s vozíkmi pokoj. Prvé jedlo s tromi chodmi počas short-haul regionálneho letu z Viedne do Istanbulu, následne trikrát jedlo počas cesty z Istanbulu do Tokia. Pre záujem – v Istanbule na letisku sú všade vypísané iba ceny v tureckých lírach, po opýtaní ale akceptujú aj eurá. Páni v Istanbule zjavne nevedia, ako vypnúť kúrenie (alebo ako zapnúť klimatizáciu), keďže v odletovej hale bola horúčava ako na Sahare.
Ja osobne som sa najviac obával customs, teda japonskej pasovej a colnej kontroly, keďže ešte vo Viedni a v Istanbule sa ma stále pýtali, či som si naozaj istý, že do Japonska nepotrebujem víza a či nebudem svoju cestu ľutovať. Skoro som stratil svoju istotu. V Tokiu nasledovala pred v stupom do krajiny konverzácia s otázkami za kým idem, čo budem robiť, ako dlho tu chcem byť, či zostanem iba v Tokiu, či tu niekoho poznám a kde presne budem bývať. Všetky tieto veci (viac-menej) budete tak či tak vypisovať ešte v lietadle do papierov, ktoré obdržíte od letušiek. Mimochodom – nemá zmysel pýtať sa ich, čo s nimi a ako ich vypísať, pretože o tom nemajú ani potuchy. Jednoducho ich vypíšte a vezmite ich so sebou na pasovú kontrolu – ak tam budete mať nejakú nevýraznú chybu, nik vám kvôli nej neublíži.
Aby som nezabudol – počas pasovej kontroly vám vezmú odtlačky prstov z oboch rúk a k tomu všetkému si aj spravia vaše foto. Pre fanúšikov konšpirácií je to iste tragické.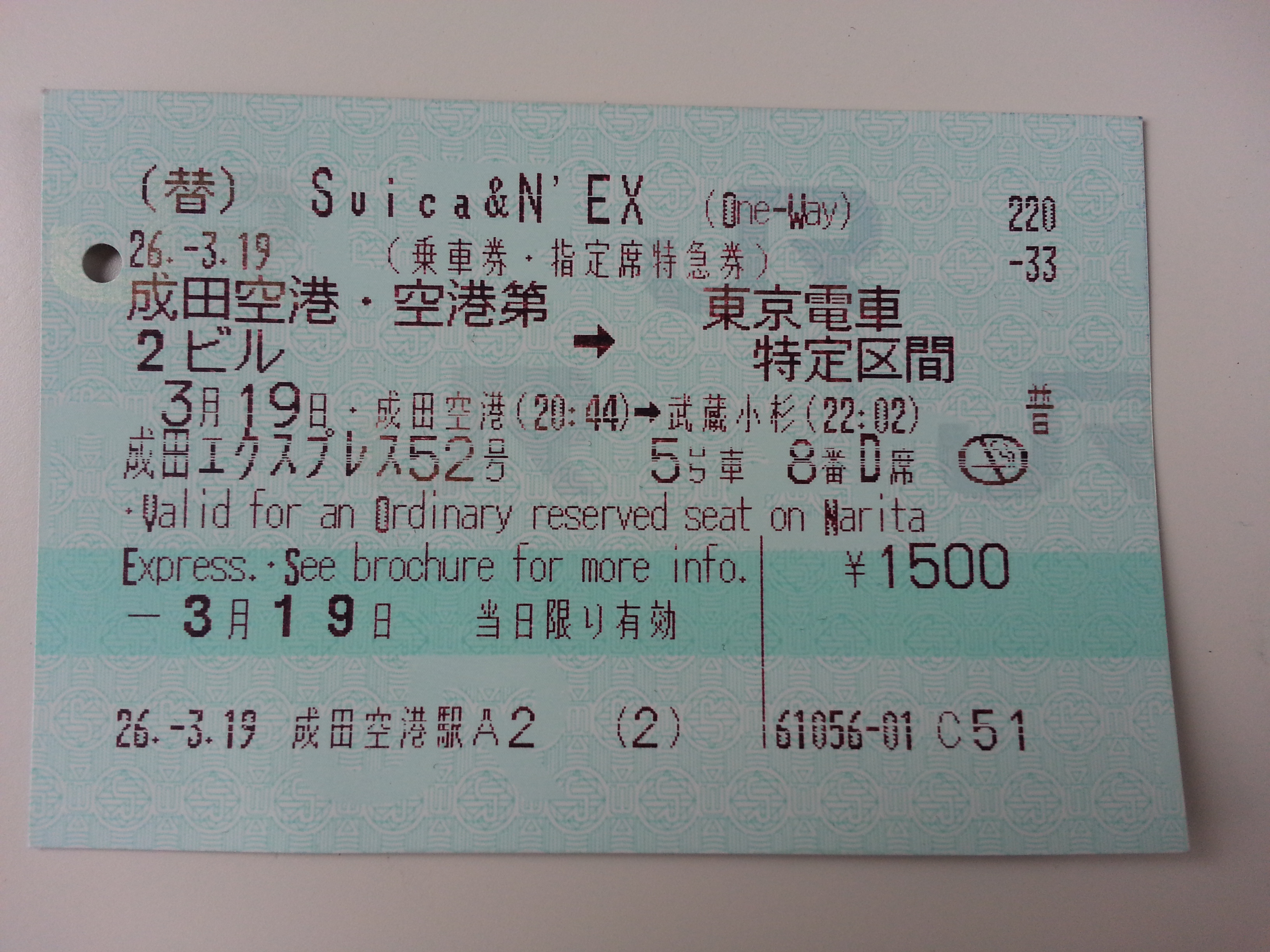 EN: Since all the preparations for my trip were rather long, I got myself quite a lot of information about arrival to Japan and I knew that I could get a one-way NEX (Narita Express train to Tokyo) ticket together with SUICA card (IC card for public transport, which is valid pretty much everywhere in Japan, with some exceptions, like Okinawa, or trams and some buses) for a special price – 3500 Yen. I am not sure if this special offer is stil valid, so please check the JR website before your trip. I got a one-way ticket to Musashi-Kosugi station and a SUICA card with a 2000 Yen credit, which was more than enough for a couple of days. It takes around 70 minutes to get to Tokyo from Narita airport, so be prepared for that.
There is, however, one problem. I was not the only one getting into this confusion – the thing is that the people behind the counter who are selling the tickets have the option to switch their stuff into English and Romaji, so the people who can't read Kanji, Hiragana and Katakana can deal with their train tickets easily. This unfortunately didn't happen to me, so I had a ticket with Japanese characters only and that caused a bit of a mess. The other fact was that the train to Tokyo was divided into two parts – the first one continued to Ofuna and the other one was detached in Shinagawa and headed towards Takao. So it wasn't easy to find my car, until the moment I figured out which numbers were referring to my car and seat number. Once you get to Japan and you start using all the trains more frequently, it gets much easier to identify the stuff on the tickets, but since that was my first time in the country and on the train I had to deal with this.
But eventually I got to my house in Meguro (Musashi-Koyama) and from that moment everything was smooth and easy.
SK: Po prevzatí batožiny som klusal po priestoroch letiska a nasledoval náveste smerom k železničnej stanici. Hľadal som samozrejme JR (Japan Rail) terminál a vlak Narita Express (NEX). Pre cudzincov veľmi výhodná ponuka – jednosmerný lístok + karta na MHD Suica s kreditom 2000 yenov (dostupných iba 1500, 500 je záloha, ktorú vám potom vrátia) vyšla na 3500 yenov (asi 20 eur), čo je skvelé, keďže ešte v závere minulého roka stál iba obojsmerný lístok na NEX 3500 yenov. V Tokiu na mojej požadovanej stanici som bol za 70 minút (hlavná stanica Tokyo za hodinu), potom čakal prestup na linku Tokyu-Meguro a môj dom som našiel bez problémov vďaka celkom detailnej mape v PDF od Taza (lokálny). Pozor – akcia na NEX a SUICA nebola trvalá, neviem, či ešte existuje, alebo existovať bude, preto je poterbné vopred preskúmať si web JR East a zistiť si, čo je v ponuke.
Poznámka k NEX – pozor na zmätky, ktoré u cudzincov v mnohých prípadoch nastanú. Expres má totiž asi 15 vagónov a moja stanica (Musashi-Kosugi) je na trati smerujúcej do Ofuna. Ibaže to vám predavač lístkov nepovie, pošle vás na nástupište číslo 3 a tam natrafíte na vagóny, v ktorých na displayi vaša stanica nefiguruje – jednoducho preto, lebo vagóny v druhej polovici vlaku smerujú do Takao a vy netušíte, že na lístku máte aj rezerváciu miesta (všetko je v Japončine a hoci hiraganu zvládam, na lístku boli iba znaky kanji). Keďže som mal k dispozícii asi 15 minút pred odchodom, nejako som to vyhútal, stanica bola totiž skoro prázdna a s angličtinou som neuspel. Takže prvá polovica vagónov smer Ofuna a ďalšia smer Takao, rozpojili sa na stanici Tokyo.
Takže už som šťastne v dome, Internet konečne funguje (nevedel som nájsť router, napokon som našiel a dal ho dohromady), je tu ticho a ako naschvál v prvý deň leje…Aj napriek tomu ale pôjdem fotiť niekam do parku.