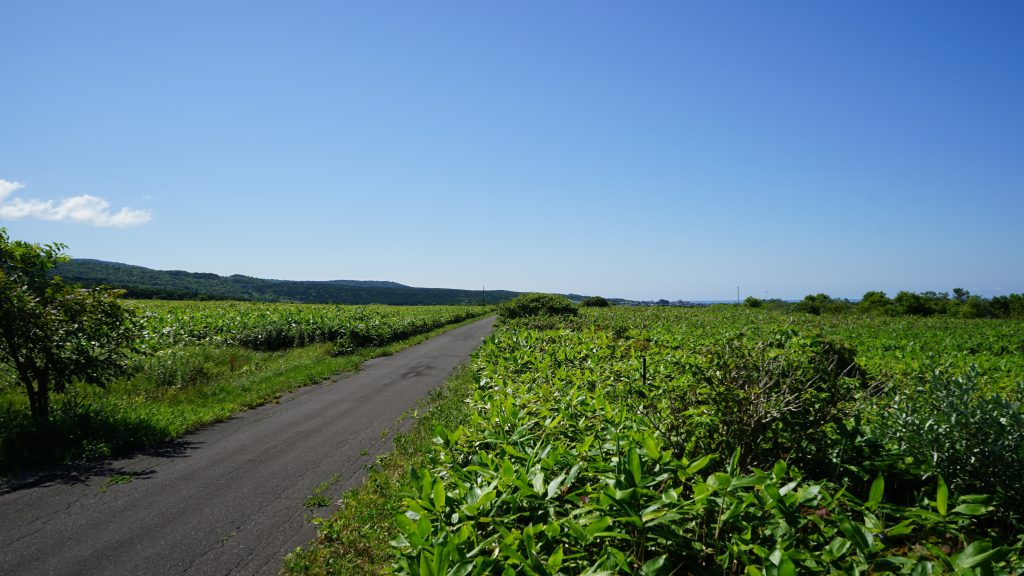 EN: Second day on Rishiri island was way in advance planned for a bike trip. I had a mamachari (no other choice) bike rental booked in my hotel, doing 37km on the first daye. The island is rather famous for its cycle path, which is around 25km long and it is reserved only for bicycles. I have to admit that I met two or three runners on the route, but they were giving enough space to be taken over, so no problem at all. The path actually has its own, tall bridges, especially on the route from Oshidomari up to Himenuma pond (be prepared for a climb), where you can take some spectacular photos. This one, however, leading from Kutsugate to Oshidomari, is less steep and more "in the fields". If you cycle up to Oshidomari (at least I had a feeling, that it was the route heading upwards), you can explore and enjoy two local capes with great views – 夕日ヶ丘展望台 and Peshi Cape, which is higher. Overall, great trip, after which I suffered from a sunburn, because I was not careful enough.
SK: Druhý deň na ostrove Rishiri priniesol dlhšie plánovanú cyklotúru. V hoteli som mal vopred zarezervovaný mestský bicykel mamachari, ktorého nie som veľkým fanúšikom, pretože síce môže byť praktický na kratší nákup do neďalekého obchodu, no to je asi tak všetko. V každom prípade som na ňom spravil 37km, čo je celkom slušné. Na ostrove je skvelá cyklocesta, ktorá je rezervovaná výhradne iba pre bicykle a často sa tiahne kľukato, úplne ináč, ako hlavná cesta pre autá. Na cyklochodníku som síce stretol aj asi dvoch alebo troch bežcov, no bolo dosť miesta na obiehanie a preto nevznikol žiaden problém.
Cyklochodník bol značne drahou investíciou, má vlastné veľmi vysoko situované mosty, ktoré nájdete na ceste z Oshidomari k jazeru Himenuma (pripravte sa na stúpanie), je z nich veľmi dobrý výhľad ideálny na fotografie. Dnes som ale vybral prvú časť trasy z Kutsugata, kde sídlil môj hotel, do Oshidomari, čo je hlavný prístav pre trajekt. V závere cyklocesty, ktorá sa kľukatí pomedzi polia a miesta, kde lokálni obyvatelia sušia morské riasy (tie sú najznámejším exportom z ostrova), môžete vystúpiť na dva kopce, z ktorých je skvelý výhľad nie len na okolie, ale aj na horu Rishiri Fuji. Po tejto túre som čiastočne ľutoval moju nepripravenosť na ostré slnko, takže som sa mierne spálil, mal som aspoň poučenie do budúcnosti.